The Ognisko Masquerade Ball
Host Maja Lewis guided us effortlessly through the evening in an environment created by our member, Basia Zyrzycka, whose generosity transformed the Club into a truly magical wonderland. Every table had magnificent Floral Candelabra created by Basia and her team, and upstairs we danced under a cloud of multi-coloured butterflies and garlands of petals. After a superb meal provided by Jan Woroniecki, we danced to the music of 'Vegas Underground' and the traditional Polish and nostalgic tunes provided by Krzysztof and his accordion. The majority of those who attended were Club members and the Ball made a profit of over £3000, which will go towards the on-going refurbishment of the Club. We are already thinking about our next big social event, perhaps an informal midsummer party to say thank you to all those who helped save Ognisko and are now working to create a very special social and cultural centre here at our Club. - Nicholas Kelsey (Chairman)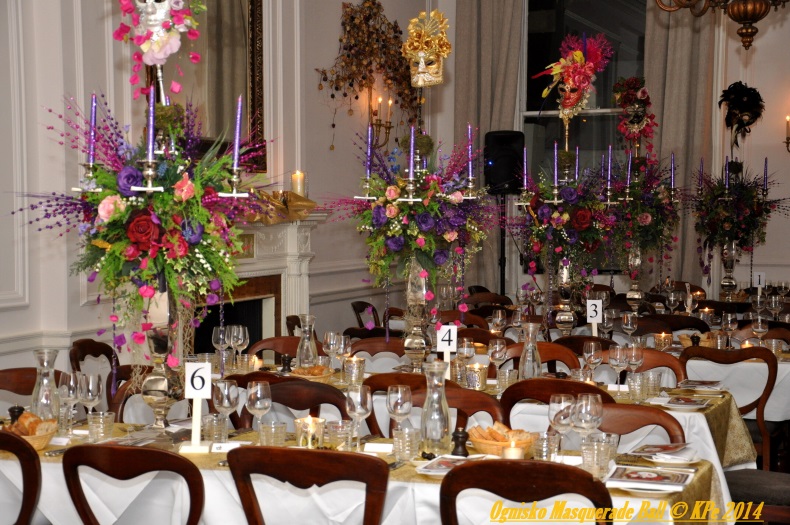 This weekend Nicholas Kelsey and his team Ela Wernik and Lady Małgosia Belhaven turned Ognisko into one vibrant Ballroom. The unique Masquerade Ball on Saturday 22 of February attracted more than hundred Ognisko members and their friends. The evening started with a drink reception in Sala Hemarowska, accompanied by the soothing baroque style tunes of The Classical Trio. It was the best opportunity to socialize with friends and members, trying to guess whose face is hiding behind unique masks.
It is worth mentioning the entire interior of Ognisko has been transformed, with the talent and taste of Basia Zarzycka. A sample of those masterpieces you can see in our photo gallery. Sophisticated, yet minimalistic decorations in the first floor played just a prelude to the breathtaking interior of the restaurant. Each table had an individually designed floral composition crowned with a unique mask. Each of the mask could auctioned in a silent auction during the evening.
After a superb gourmet dinner served by Jan Woroniecki, we moved back upstairs to enjoy the ball with the music of Vegas Underground. From rock-and-rolls to walzes everybody could find something to enjoy on the dance floor. And everybody was in the mood for dancing, it was a ball night afterall. All went smoothly thanks to organizational talents of Marta Kochanowska and Maja Lewis who planned the entire event well in advance. - Krzysztof Piskorski
Photo service kindly provided by Krzysztof Piskorski. Please contact Ognisko for individual photos in hi-res. A catalogue of the photos can be downloaded here.