Stars of Solidarity: The origins of current Poland.
Solidarity's Andrzej and Joanna Gwiazda gave a talk on 'The origins of current Poland'.
It is a cold, snowy Sunday, 30 January 1982 - International Day of Solidarity, London. Waves of Poles - émigrés, war veterans, naturalized, politically stranded, or those born here - together with British support, are all part of a 20,000 strong protest. Frozen, but seething with heated anger, they march through central London to vent their wrath against Soviet-Polish oppression. The Cold War is hotting up - and melting! It is their first chance, to demonstrate in defiant tangible strength, their solidarity with Solidarity - Solidarność. It is a protest against: Martial Law; illegal internment; brutality by the ZOMO police; the deaths of one hundred protestors; and against Gen. Jaruzelski's Soviet led repression of Solidarity and the political, economic freedom and rights of Polish citizens.
In effect Solidarność's dramatic showdown, with the Soviet Union's Polish repressive puppet regime is also what millions of displaced Poles around the world had been awaiting for thirty seven years - since the allies' Yalta sell-out of Poland to Stalin and the Soviet Union in 1945. In London itself excited 'exiled' pockets of support for Solidarnosc spring up at various points. At Philbeach Gardens, SW5 under the direction of now one-time Polish Finance Minister, Jacek Rostowski, the 'Solidarity Trade Union Trade Working Group', makes it's voice heard. Not far up the road at Nevern Square, Earls Court, one-time Editor of "Tydzien Polski", Jan Chodakowski makes his premises available for the production of posters and leaflets. Medical Aid For Poland (still going strong to this day), springs up in Ealing, West London, and elsewhere.
Even Polonia's beloved Fawley Court plays host to Solidarity fund raising events. And so onto 2014. What has changed, what has been achieved, is 'Soviet' communism really dead, has it all for Poles' everywhere been a 30 year long false dawn…?
The collapse of Soviet-Stalinist communism? It all started ominously, and courageously in Gdansk, Poland, in 1968. It all supposedly ended happily with the Round Table Talks in Warsaw 1989. In between they were tumultuous, epoch changing days, weeks, months and years. Churchill's image laden coinage, "The Iron Curtain" describing the dire strait-jacket of Soviet communism, was ripped apart - shredded. Stalin's tyranny - for millions, a forty year nightmare - was driven out, first from Poland, and in a seismic domino effect, the communist clear-out raged through Soviet occupied Eastern Europe, and then the Soviet republics. Out went the Berlin Wall, and even the reprehensible Allies' post war, 1945 Poland sell-out, the Yalta Agreement was 'torn up'.
At the heart of this revolution, was Gdansk/Sopot port and shipyard, trades union founded Solidarity. In the maelstrom of the revolt was of course Lech Walesa, and 'staunch' friend and ally Andrzej Gwiazda - the conscience of Solidarity. But how the years change things. On Sunday, 9 February at Ognisko, we heard of a perhaps sad, embittered, very different story. A sobering version of events not so new to Poland, and now less novel to the outside world. The whole Solidarity movement was described as a rigged event, a political charade, a pre-rehearsed conspiracy, including inter alia - an army of psychologist puppet masters pulling the strings where else (?), but in the Kremlin of course - or so we are led to believe. Even worse: Walesa was allegedly an informer/collaborator; many of his mates communist cronies; and the Round Table Talks (1989) a sellout - some say even more catastrophic than Yalta.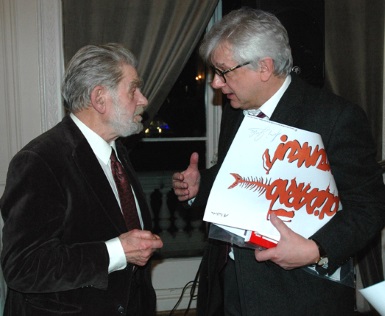 Here we have Andrzej and Joanna Gwiazda's first hand account of those glorious, now it seems in parts inglorious, Solidarity 'revolutionary' days. The first talk, Dlaczego robotnicy przegrali (Why the workers lost out), is at POSK, and the second, Geneza obecnej sytuacji Polski, (The origins of current Poland), held at Ognisko, (Sunday, 9 February), is introduced by Elżbieta Listos, who holds aloft a special poster by renowned Polish graphic artist Andrzej Lichota - a nibbled 'Solidarity fishtail, crying out 'Help': SOLIDARNOŚĆ - RATUNKU!
Andrzej Gwiazda, 79, takes the floor. His frame is frailer, smaller, than his photo images suggest. (Many of us in Ognisko's famous Hemar Salon are seeing Gwiazda for the first time). His fiery intellectual power, and strength of personality is there, identified by that - now greying - famous hedgehog-like sweep of thick set swept back hair, beard and whiskers, plus two arches of bushy eyebrows, out of which peer two kindly blue eyes. Microphone in hand - you can picture him in defiant mood taking to the barricades, and rousing the shipyard workers (stocznia) in 1980s Gdansk. Addressing his Ognisko audience Gwiazda starts a little surprisingly on the 2010 tragic Smolensk air disaster, in which 96 Polish dignitaries and personnel die. The drawn out investigation into the mysterious air crash on Russian territory is a sham he maintains. Many of the Smolensk findings fly in the face of both common sense and science…why one plane..? Why were certain politicians not on board..? A murky tale indeed...
The next issue is the Round Table Talks. Gwiazda is adamant that these talks were a sham, letting diluted soviet style communism in through new Poland's back door. He refers to Prof.W. Cenckiewicz and his Institute of National Remembrance (IPN) findings on Lech Walesa, which allege that the Solidarity hero was a 'collaborator' for the communist regime. Bewildering and sad stuff. Gwiazda goes so far as to even suggest that since the first heady 1968 agitations in the Sopot/Gdansk/ Gdynia ports, where the strike was a preprogrammed 'prowokacja' (provocation), thereafter carefully monitored and controlled to the tune of the oppressive Soviet-Polish regime. Gdansk, differed in that there the "spontaniczny bunt" (spontaneous rebellion), was less controllable, due to the sacking of heroine Anna Walentynowicz. Whilst the protestors had no modern fighting facilities, helicopters, or the like, but printing presses, leafleting, and sheer human will and organization led to a tightly knit nationwide patriotic Polish revolt - at one point Solidarity numbered ten million members!
However, not all was sweetness itself. Not only with Solidarity's progress but in the Ognisko hall itself. There is a bitter exchange between a clearly rattled Gwiazda, and a journalist in the front row. The issue is over the role of some third shady parties' with whom Gwiazda was allegedly in cahoots. Gwiazda then continues; beneath the surface the despised regime kept control of events through a network of subversive spying and collaboration. Says Gwiazda: "Our biggest fear was not the torture or terror that the oppressors could inflict, but not trusting those in our ranks - who was spy and who not, who was spying on whom."
A lethal and complex situation indeed. In this context Gwiazda makes his distaste for Lech Walesa quite obvious, accusing him of collaborating, and operating in ways that were detrimental to the honest name of Solidarity. In effect, the supposed Round Table Talks (Warsaw, 1989) under economist Balcerowicz's influence was one huge 'Joke'.
Joanna Gwiazda takes over the microphone. Black hair tied back in a bun, glasses, and in black cardigan, and white shirt with ruff, she looks more a kindly Polish Aunt, than a leading revolutionary. She says the Round Table Talks essentially crippled Poland's economy from the outset. Poland's massive potential utilizing its massive natural resources was doomed from the word go. She gave a detailed insight into how the shipbuilding industry was wrecked, how workers were literally "working for nothing" to survive, how institutions were plundered, and the profits and riches, ending up in monopolistic 'Oligarch' style greedy hands.
At this stage there is another interruption, and more commotion from the floor. A highly disgruntled bald-headed Pole, looking like a Japanese Sumo wrestler - as broad as he is tall - attacks the Gwiazdas. Poland's catastrophic decline, socially and economically is all their fault he hollers. Poles are exiting Poland abroad in their millions, in search of work, and a new life, like lemmings in a hopeful freefall jamboree - but with no safety net. Ognisko 'bouncers' try to contain him but this protestor's main gripe appears to be with the GMB (British General Union). His complaint is unclear. He is eventually forced out of the hall to a chorus of 'Cheerio, Cheerio…'
Joanna Gwiazda carries on with her theme: the destruction of Poland's ship building industry, incompetent business 'planning', and the wilful, negative rundown of worker incentives and almost non-existent output. She praises the essential high, ingrained intelligence of Poles', their curiosity, and ability academic or otherwise - to learn, and garner, absorb knowledge and respond to new ideas. She mentions the ludicrous 'export' of Polish built ships at 30% value/'discount' to (Soviet) Russia. It is all sadly a Polish tale of woe after woe. What are we to make of it..?
At this point news filters into the room about the near critical ill-health of Zbyszek Romaszewski, a leading light in the Solidarity movement. The hall rises to its feet, and as if in a reenactment of a Gdansk shipyard strike vigil, a sombre, heartfelt prayer of "Zdrowas Mario", (Hail Mary) for Romaszewski is declaimed.
What indeed, are we to make of it all? Of Andrzej and Joanna Gwiazda, one thing is certain. They are morally and intellectually courageous, they are morally and intellectually honest - but have they missed the 'boat'? Their erstwhile allies continue to prosper but as for the Gwiazdas? Well it is only apparent after the meeting that, even in their relative financial poverty, they think first of others. Due to the inevitable controversy, the book sales have not been strong but the first thought of the Gwiazdas is not for themselves, but to donate the takings to either the needy Obywatela Klub Gazety Polskiej, or towards the rent of a hall for Solidarity in Gdansk and Gdynia. Maybe the Solidarity crusade has not gone to idealistic and pragmatic plan, or made riches but the conscience ofSolidarność, Andrzej and Joanna Gwiazda, have wealth beyond imagination, a belief in their words, and a sound, peaceful mind. A political faith and integrity unlike many in the Solidarity movement, today they doubtless sleep soundly at night… Ach SOLIDARNOŚĆ Whither hast thou gone?
Review by Mr. Mirek Malevski