New Year's Eve 2014
After an absence of a few years, the New Year's Eve Dance has finally returned to Ognisko ! As Iwo Zaluski of the group Domino writes in his memoirs: - the Polish London of the 60's and 70's had two big events, the Dozynki at the Hilton and the New Year's Ball at Ognisko.... The New Year's Eve Party was organized by Topaz, the Society of Polish Graduates and Professionals, as a fundraiser for Ognisko. The profit made was £2,300.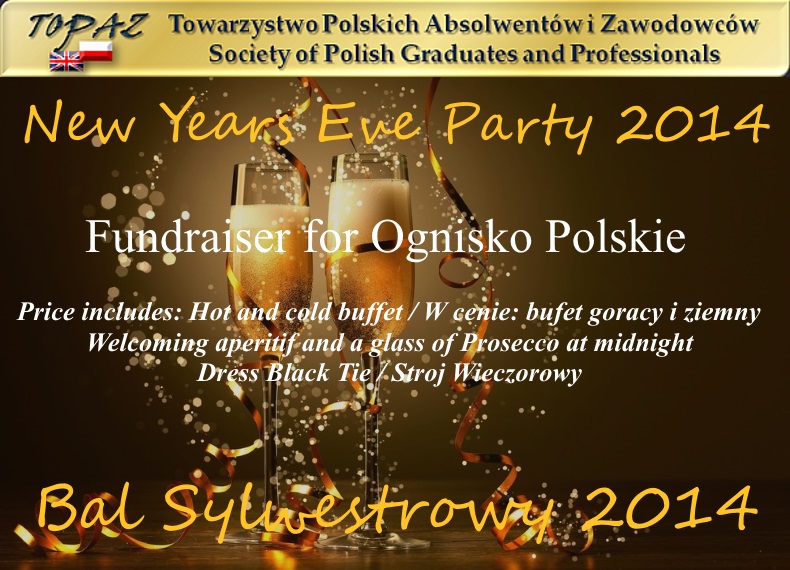 The evening commenced with piano playing by the versatile Alexei. This was followed by music from the twins - DJ Tomski. The first dancing couple on the parquet were Mr and Mrs Piwowarski, celebrating the 12th anniversary of their engagement, which had taken place at Ognisko at exactly the same time.
A delicious and varied three-course buffet was prepared by Jan Woroniecki's Ognisko restaurant. As 2014, drew to a close the dancing seemed to get faster and faster...
Then, at the stroke of midnight Alexei launched into Auld Lang Syne on the grand piano, followed by Happy Birthday for Ania Woroniecka of Topaz, one of the organizers. Dancing continued until the early hours. At the end, Wojtek Zalewski picked up his accordion and launched into a medley of traditional Polish songs. Alexei joined in on piano, Bozena Karol on tambourine and everyone else sang along.
The party goers finally and reluctantly left, bunches of white and red balloons fluttering from their cars, as they drove home......
Bozena Karol