Hemar Theatre: The Misanthrope
Molière is not only enormously funny, his wit pokes fun at serious situations which continue to be as fresh and relevant today as when The Misanthrope was first written hundreds of years ago in 1666, for production at the Théâtre du Palais Royal by the King's Players. The Hemar Theatre Company's decision to choose this as their first in house production in English is therefore eminently sensible and director Gigi Robarts has played to the strengths of her enthusiastic and vivacious young cast by directing it at speed, with some sensible cuts to the text that keep the main plot and characters in focus while maintain comic momentum.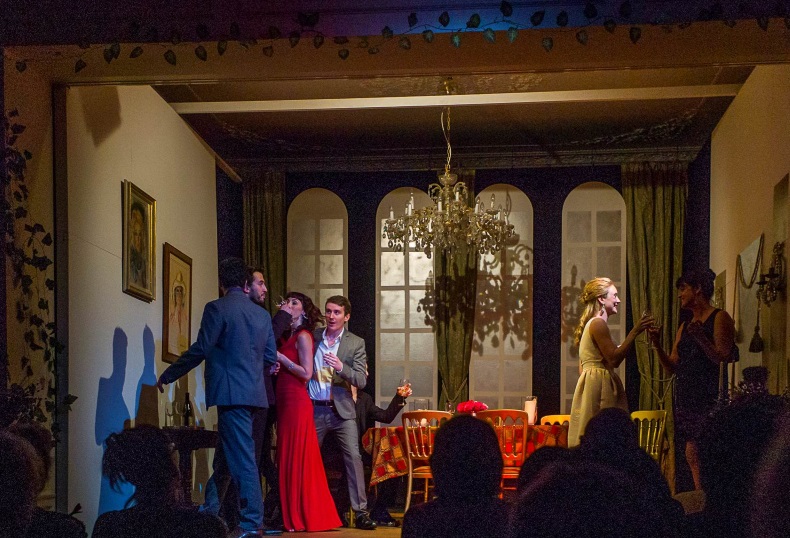 Richard Wilbur's verse translation manages the trick of being colloquial, witty and graceful, offering some excellent opportunities for the actors to draw out both laughs and uncomfortable truths. Magda Rutkowska Hunt as scenographer,has worked a minor miracle with a small budget to deliver a timeless setting; combining a stylish contemporary atmosphere with the sense of 17th century aristocratic drawing rooms. Maja Lewis who also doubled as producer has some chic, sexy costuming, especially effective for the principal female characters. It is a play after all, that is as much about the foibles of love and the potentially overwhelming, destructive dictates of passion as it is about the question of whether honesty is ever really possible in polite, conventional society, or whether hypocrisy would serve us better.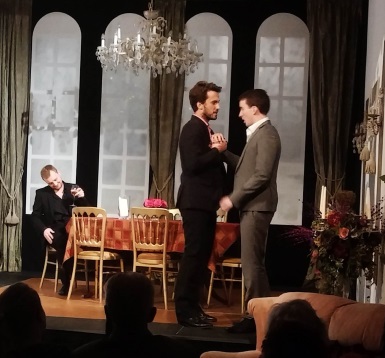 The cast may be young but they seemed fully at home with speaking the play's verse and rather than simply clowning, they focused on a crisp delivery of the subtle language to create believable characters and clarity of thought. It therefore seems unfair to single out some over others as there was some solid ensemble work here. However, James Ducker produced an admirably vigorous and charismatic Alceste – the misanthrope of the title who rails against the necessary lies and hypocrisy of aristocratic society - he feels all he can do is tell the truth, no matter how much it offends people. Ducker made the most of his character's great lines, clearly relishing the skill with which he dismantled a pretentious sonneteer, while ruefully acknowledging he was trapped hopelessly in love with the continually unfaithful Célimène, despite what his head might tell him. Is he a hero to be praised for his absolute honesty (as Rousseau thought) or an idealistic fool? Or is he perhaps both? Mike Timney brought some long-suffering intelligence to the somewhat thankless job of being Philinte, the best friend of Alceste as well as his foil and confidante. He clearly loves him while still thinking Alceste is fated to cause endless problems for himself.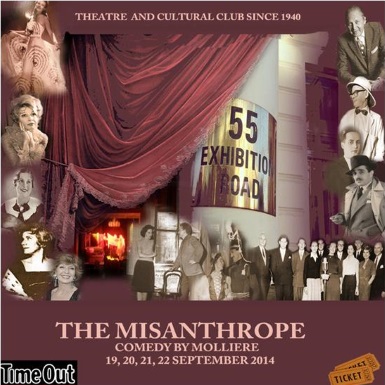 I was also much taken with Leonora Barton's scheming, flirtatious, man-eater Célimène – she enjoyed the attention of her many lovers far too much to ever be trustworthy or faithful, but what is worse this leads her to secretly despising them. It was a sexily languorous and confident performance which brought out her character's selfishness and ennui, as much as her desire to act the coquette with patriarchal social conventions. Pandora McCormick's radiant Éliante, who serves as Célimène's moral opposite in the play, had a certain amount of backbone – an excellent idea as the character can sometimes seem too insipid and saccharine in her virtue. Éliante's decision to turn down Alceste's final proposal - he has finally chosen her as second best in preference to unfaithful Célimène, after the latter rejected his proposal to run away to live with him in exile from society – in preference for long-suffering Philinte, who is actually in loves with her, was suitably rousing. Alceste may be admirable in his refusal to dissemble or dissimulate, but he is far too proud of himself to really engage with other people, unlike realistic and caring Philinte. Being turned down by the beautiful and serious Éliante serves the deeply surprised Alceste right.
Here's a final thought experiment though. If you tried to live a week like Alceste, saying only what you really thought of other people and their actions: would you have any friends left by the end of it? Steve Barfield, Theatre Critic and Reviewer , former Literary Editor of the Lady.
Date: From 19 September 2014 to 22 September 2014