My Autobiography Rula Lenska
There is no escaping the fact that the Polish Hearth Club / Ognisko Polskie, is very dear to Rula Lenska. The very Polish, very English born actress, comes from a background of seamless nobility, ill-fatedly lost riches, and abandoned castles. Owing to the dual ravages of war - Nazis on one side, Commies on the other - in place of peace, and the promise of a life of grandeur on Polish soil, she instead sees her life start humbly on foreign shores. In fact she is born to noble – in every meaning of the word – Polish refugee parents in 1947, at an army camp in Huntingdonshire, England. However, Rula eventually goes on to more than make up for this wartime setback and deficit, with riches of sorts; a very highly successful acting career, accompanied by an eventful, sometimes glitzy, even notorious, celebrity and social life in England and America.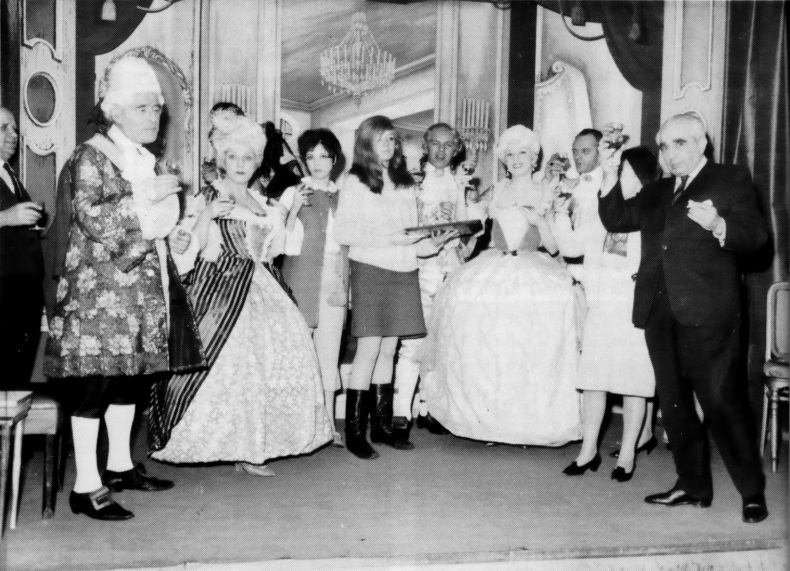 Rula has decided to launch her book, "Rula - My Colourful Life", at the now equally colourful, London's famous Ognisko club in Prince's Gate. The once endangered historic venue and building, holds special treasured, childhood, teenage and adult memories for her. She is very glad of its survival. So really the evening of Thursday 10 October, to launch her book, autobiography, at the new, revamped Ognisko is a kind of homecoming for 'our' Rula. The occasion also marks the start of the Anglo-Polish club's Autumn 2013, popular events season, with new talks, treatises, music, candle-light dinners, and other attractions ; all the infant-baby now child-teenager wonderful idea of the indomitable Ognisko duo of Basia Hamilton and Malgosia Belhaven.
The evening starts with brief introductions from Ognisko restaurateur Jan Woroniecki, and club Chairman, Col. Nick Kelsey. Jan welcomes a full house of guests, in the Hemar ballroom, apologizing for the lack of wall lights, but the club is still playing catch up with some of the renovations. The candle lit tables in the dusky lighting only add to the special 'Ognisko/hearth-fire' atmosphere. Nick for his part gives a 'potted bio' of Rula followed by a Polish "Dobry Wieczor" (evening all), and its cue Rula Lenska.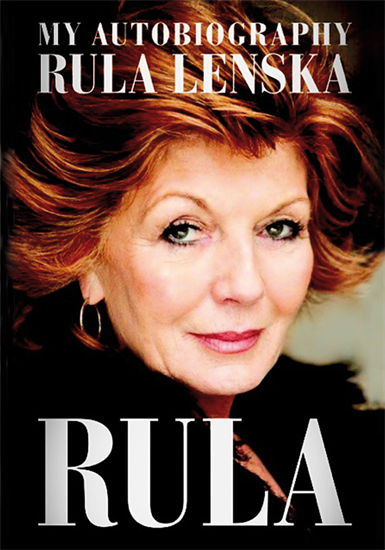 That amazing, trademark mane of hair, red-head - with a flicker of blonde highlight - is there. Dressed in marine green loose satin top, a hint of shoulder black bra strap, and matching elegant slack trousers and shoes, however it's Rula's aristocratic good looks, encased in enormous glittering, diamond-shaped emerald coloured earings, that also catches the eye. A memento from the Galapagos Islands which she has recently been visiting, or elsewhere ..? Rula loves to travel. She extends a warm, heartfelt thank-you-for-coming welcome to her guests, in that husky sexy register. How much Ognisko , means to her is echoed in: "I close my eyes and fifty years disappears in this (Hemar) room." And then rather than give a talk, she opts to read out aloud the first chapter of her book – "Far from my grandfather's castle". There is a clear tremor of emotion, nerves, wistful sadness, in her voice. God! Is she going to get through with this ? Of course she will. Being the delightful pro that she is.
Rula calls on a range of skills from her repertoire. One of the best is when reading from her book, she mimic's her late Mother's or late Father's foreign "Zees ees my dowter's feeasko" ("This is my daughter's fiasco" - fiancee). The peculiar pidgin English/Polish – 'Heesvitzk' (Chiswick), 'Sheiferds Boosh' (Shepherds Bush), and unbelievably 'Hemmerschmitt' (Hammersmith), but as in 'Messerschmitt' - was always a source of amusement to us intelligentsia post war, first wave, first generation, British born, Polish babes. There was also as Rula rightly notes, the minor inconvenience of being born in Britain as both; Polish and Roman Catholic! Saturday Polish Schools – with full curriculum! No free weekends. Though lots of Polish Scouts or Polish Girl Guides, (which was fun…). Polish Sunday Church, (and more school!) with Communion, Catechism, and Confirmation classes, and even more Catholicism. Double this, double that. Oh, and then off to a full week of English day, (or boarding) school education. It really was a double schizoid culture. But the Brit 'Pole-Babes' survived, mostly for the better – roundly cultured, bi-tri-quadri-lingual, and more able individuals as a result…ready for a ne'er, or sometime return to the Motherland.
And so Rula's first chapter reading draws to an end. There is still a chance to movingly mimic her late Father's accent: "Zat vonderful countryside, homeland –"eternal security…". Her father Count Lubienski was an adjutant to the Polish Prime Minister in exile General Sikorski. Or recount one of many joyful home encounters with Irena Anders,the actress wife of General Anders. On this occasion it was Rula's fourth birthday and Irina Anders with the young "zlota kula" ('golden ball'), 'Rulka' (diminutive) on her knees asked what present she desired; pram, doll or bicycle ? Quick as a flash infant Rula had espied, like a Mayfairs jeweller's shop, a range of valuable rings on Irina Ander's fingers – "I'll have the SOLITAIRE DIAMOND please…". Nice try Rula. No way…
And so ends Rula's charming reading. But there is an air of expectancy in the air, indeed slight disappointment . No questions and answers session ? Is this a Rula ruse. Well there's the first chapter, beautifully delivered, now buy the book and read the remaining riveting twenty six chapter for yourselves… And what of "Rula – My Colourful Life", the book? Well, it is a fascinating, compellingly written read. Working on different biographical levels; early days, undying love for her parents and family, especially daughter Lara, drama school, the step into stardom - out goes the 'UBI' from LUBIENSKA, and out like a butterfly steps Rula Lenska - from personal (harrowing) insights, travelogue, jail, (wrongfully imprisoned in Sardinia at age sixteen!), marriage(s), divorce(s), masses of course on a fabulous acting and celebrity career, and something on a spiritual attachment to (Tibetan) Buddhism. Still very much a Roman Catholic Rula read 'The Third Eye" by Lobsang Rampa, at age 'about' fifteen, and writes; "Buddhism…with its belief in one's own higher power, had always attracted me." Chapter 14, Rula's trip to Tibet (1995), is perhaps as moving as any in the book: "…at 4,300 ( 'airless, suffocating') metres, we caught our first sight of Everest – not a cloud in sight, this huge iced meringue standing out against a vast empty plateau dazzlingly white against a blue sky." Just Rula and the world, with a vision of one of God's works of splendor at first sight…
The evening book launch ends with a cosy, almost family atmosphere. Flowers in the shape of orchids are presented to Rula. The amply gathered eat well, drink well, talk well, and share fond reminiscences. Many in attendance are special and drawn from Rula's (Polish) past – including actresses Irena Delmar and Joanna Kanska. It is a really genial get together. A memorable evening. A memorable book. Thanks Rula. Thanks Ognisko.
Review by Mirek Malevski.
Rula – My Colourful Life, interestingly set in famous Caslon typeset (William Caslon 1693-1766), and for easy reading – double spaced. Available from all good bookshops (and Ognisko), The Robson Press at £20. Rula's dedication (to individual fans), of "Love and Laughter" should add… 'And Some 'Precious Tears'.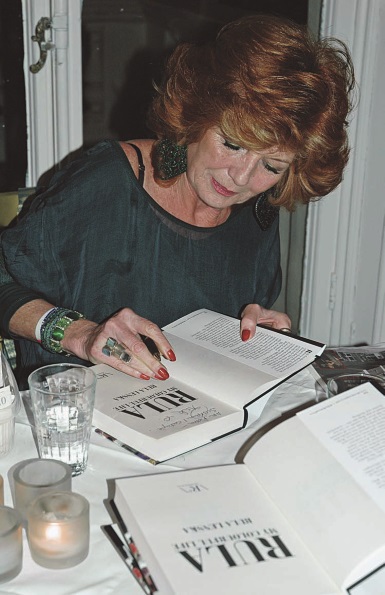 List od Pani Teresy Israel umieszczony w  Dzienniku Polskim na temat Ogniska.
W zeszłym tygodniu byłam w nowo odnowionym Ognisku, na wieczorze z Rulą Leńską. Sala była wypełniona po brzegi, jedzenie wspaniałe. Już parę razy w tym roku byłam tam na różnych imprezach i zawsze było pełno ludzi – widać że Polskiemu Londynowi to miejsce jest potrzebne.
Po imprezie wyszłam z znajomą Zosią, która chodzi o lasce. Na dole przy szatni Zosia zamówiła taksówkę, zasugerowałam żebyśmy wyszły na zewnątrz, bo zejście z schodów dla Zosi długo trwa. Najpierw chciała nam pomóc, uprzejma młoda pani z szatni, ale czekali inni goście po płaszcze. Zaraz pomógł nam sympatyczny, kelner Pan Michał. Zosia długo nie może stać i chciała usiąść na schodach przed budynkiem – Pan Michał pobiegł i przyniósł eleganckie krzesło z środka. I tak Zosia siadła na chodniku na Exhibition Road pod napisem "Ognisko Polskie, 55 Exhibition Road".
Zaraz wyszła Pani Rula z towarzystwem i wszyscy śmialiśmy się z tej sceny! Szkoda, że nie mia- łam aparatu, bo to by była świetna reklama dla Ogniska. Gdy przyjechała taksówka, P. Michał prawie na rękach wniósł Zosię do środka – tylko Polacy są takimi gentelmenami! Nie wyobrażam sobie żeby Angielski kelner tak się zachował.
Dziękujemy obsłudze Ogniska za tak świetną opiekę. Do zobaczenia na następnej imprezie w Ognisku.