Sir John Madejski OBE
The initiative organised by Basia Hamiton, the society portrait painter, and Lady Belhaven & Stenton, and supported by the new committee, has captured the imagination. Speakers so far have included Lord Northbrook, Celia Lee and Lady Colin Campbell. All the speakers have given up their fee, as their contribution towards the fund for the restoration of the club.
The fourth Literary Lunch or rather Dinner in this case, took place on Tuesday night. The club members and their guests gathered to hear a talk given by Sir John Madejski OBE about his life. Those gathered were entertained and delighted to hear Sir John's reminiscences about how he became one of the most successful business men of his generation after an initially unpromising start in life. The breakthrough came when he launched  Auto Trader magazine. He made the observation that, "When you don't have money you don't need it, but once you've got it you want more."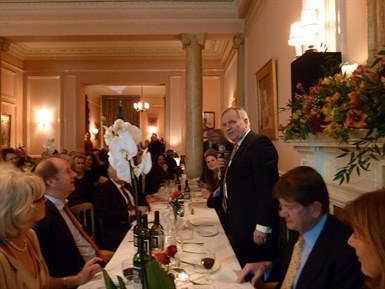 Mirek Malevski of Fawley Court Old Boys, who donated the wine, asked whether Sir John whether he had bought Reading FC because he liked football, to which the reply was that he preferred rugby at school!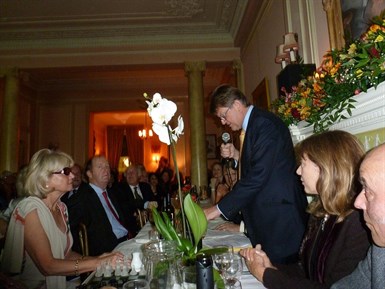 As well as being a successful business man Sir John has been a generous donor to many causes including the Arts and Education. He said his favourite project had been the funding of a City Academy in Reading.
Lord Archer, who was present, paid tribute to Sir John's loyalty as a friend when he himself went through difficult times...
The merriment continued late into the evening as the conversations and wine continued to flow punctuated by the occasional "Na zdrowie!".