WHERE
The tour will last approximately an hour, after which the group may have refreshments in the Victorian cafe. The meeting point is in Entrance Hall, main Cromwell Road Entrance. The tour is free of charge and will be conducted by Dorothy Gonsalves, member of the V&A's Tuesday Morning Team and a V&A champion.
CONTENT
Our tour will begin with a brief explanation about the Great Exhibition of 1851 and the personal involvement of Prince Albert as well as the V&A's current status as the leading museum of art, design and performance in the world. There will also be the opportunity to ask questions and to continue browsing after the tour has ended.
FEATURES
Schiaparelli's Evening coat 1937, Paris, Fashion Gallery. Tipu's Tiger, South Asia. Michelangelo's David, Cast Court. Fred Astaire's suit, 1937, Theatre & Performance Gallery. Cabinet, Gdansk, Amber, ivory and wood 1650, European Galleries. Bust of Paderewski 1891 by Sir Alfred Gilbert, Sculpture Gallery.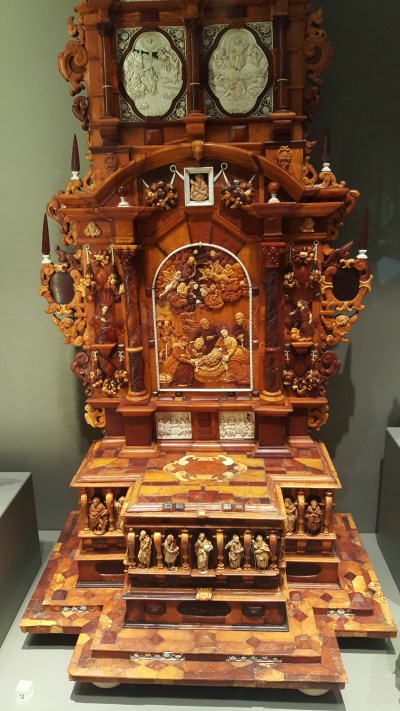 Cabinet, Gdansk, Amber, ivory and wood 1650.
European Galleries Level O.