In the summer of 1940, after the Nazi occupation of Poland, an underground operative called Witold Pilecki accepted a mission to uncover the fate of thousands of people being interred at a new concentration camp on the border of the Reich. His mission was to report on Nazi crimes and raise a secret army to stage an uprising. The name of the detention centre was Auschwitz.
Drawing on exclusive family papers and recently declassified files as well as unpublished accounts from the camp's fighters, Jack Fairweather shows how Witold attempted to save hundreds of thousands of lives.
How does an ordinary man, a farmer and father, find the moral capacity to piece together, and expose the Nazis greatest crimes while others turned away? The result is an enthralling story of resistance and heroism against the most horrific circumstances, and one man's attempt to change the course of history. 'The Volunteer' is an incredible true story of survival and heroism that will add a provocative new chapter in the history of the mass murder of the Jews.
Reviews
"What distinguishes The Volunteer is Fairweather's meticulous attention to accuracy … if it sometimes seems as though there is nothing left to uncover about the Holocaust, Fairweather's gripping book proves otherwise" - The Spectator
"A searing account … a fitting memorial to one of Poland's greatest war heroes and a shaming indictment of the western allies' failure to act" - Sunday Times
"Pilecki is perhaps one of the greatest unsung heroes of the second world war ... this insightful book is likely to be the definitive version of this extraordinary life" - The Economist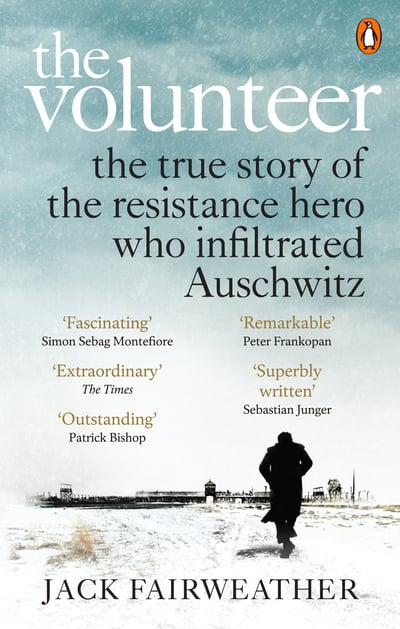 Jack Fairweather
Jack Fairweather is a British journalist and author. Born in Wales, Fairweather was educated at Oxford University. He was a war correspondent embedded with British troops during the 2003 invasion of Iraq. He was bureau chief for The Daily Telegraph in Baghdad. Fairweather survived an attempted kidnapping and an attempted suicide bombing. He later covered the war in Afghanistan for The Washington Post. His book The Good War was a finalist for the 2015 Lionel Gelber Prize. The Volunteer won the 2019 Costa Book award in the Biography and Memoir category.