Talk: The Shakespeare Institute's Dr. Laoutaris
The Shakespeare Institute's Dr. Chris Laoutaris will be giving a talk on Shakespeare's birthday. His book 'Shakespeare and the Countess' was shortlisted for the Tony Lothian Prize, was a Sunday Telegraph 'Book of the Week', a Marylebone Journal 'Book of the Week', was listed as one of the Telegraph's 'Best Books of 2014' and made one of the Observer's 'Books of the Year'.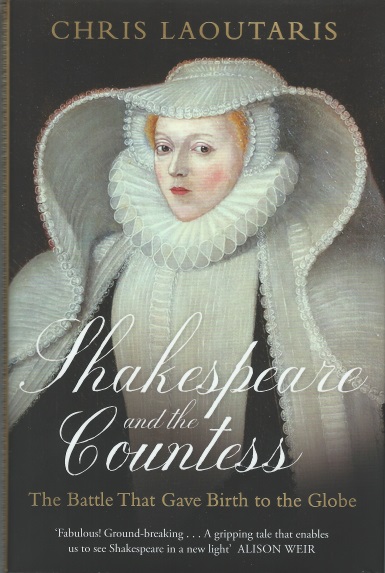 The Shakespeare Institute's Dr Chris Laoutaris on the BBC1's One Show
Dr Chris Laoutaris featured on BBC1's flagship magazine programme the One Show on 12 February, talking about the findings showcased in his recent book Shakespeare and the Countess: The Battle that Gave Birth to the Globe (Penguin).
In an interview with the effervescent Gyles Brandreth, Laoutaris explained how the formidable Elizabeth Russell, a 'busy body neighbour' in the Blackfriars district of London, prevented Shakespeare and his business partners from occupying a new theatre built just paces from her doorstep in 1596. An outraged Lady Russell got up a petition against the backers of the playhouse, astonishingly managing to convince Shakespeare's own patron, the Lord Hunsdon, and his publisher, Richard Field, to put their names to the document.
During the segment, Laoutaris guided Brandreth through the streets of Blackfriars where this story of betrayal and nimbyism unfolded. He also revealed the locations of Richard Field's previously lost printing press and of Lady Russell's home, which were uncovered for the first time in Shakespeare and the Countess and received their television debut on the One Show.
You can watch Dr Laoutaris' interview for a limited time on BBC iplayer by following this link (the segment begins approximately 23 mins 16 secs into the programme): View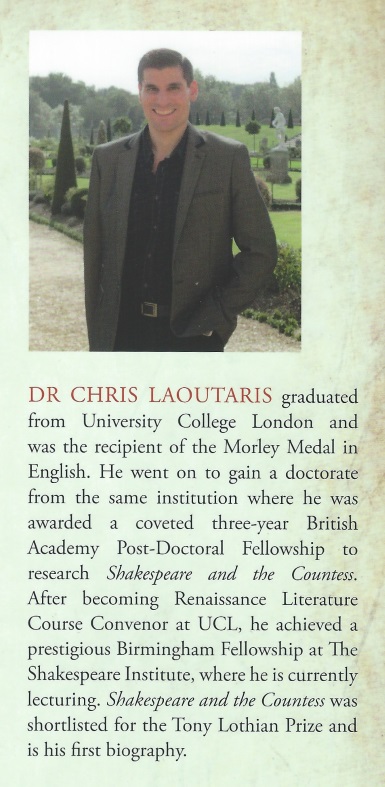 Date: 23 April 2015
Time: 7:00 p.m.
Member Ticket Price: £30 including buffet and wine.
Non-member Ticket Price: £35 including buffet and wine.
Buying Tickets: Payment Information can be found here - View