Talk: Caroline Moorehead 'Village of Secrets'
Caroline Moorehead, a biographer well known for her work in human rights and author of the New York Times bestseller "A Train in Winter," will talk briefly about her book, "Village of Secrets: Defying the Nazis in Vichy France," followed by a discussion. Le Chambon-sur-Lignon was one of several villages situated in La France profonde on the Plateau Vivarais-Lignon, where inhabitants hid and save many hundreds of Jewish people and their children from Nazi deportations while passing thousands of resisters into safety. The book is a Sunday Times top five bestseller and was shortlisted for the Samuel Johnson Prize 2014. Wine and canapes are included.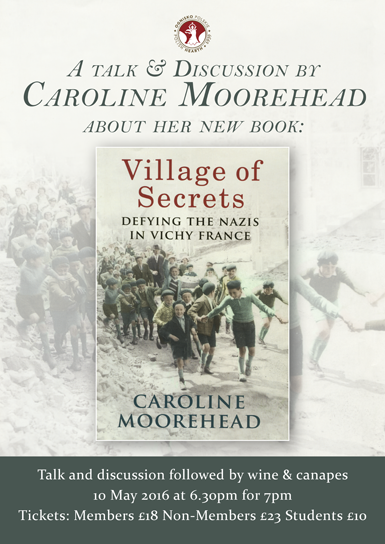 High up in the mountains of the southern Massif Central in France lies a cluster of tiny, remote villages united by a long and particular history. During the Nazi occupation, the inhabitants of the Plateau Vivarais Lignon saved several thousand people from the concentration camps. As the victims of Nazi persecution flooded in – resisters, freemasons, communists and Jews, many of them children – the villagers united to keep them safe. 
The story of why and how these villages came to save so many people has never been fully told. But several of the remarkable architects of the mission are still alive, as are a number of those they saved. Caroline Moorehead has sought out and interviewed many of the people involved in this extraordinary undertaking, and brings us their unforgettable testimonies. It is a story of courage and determination, of a small number of heroic individuals who risked their lives to save others, and of what can be done when people come together to oppose tyranny.
Resistance on the Plateau within its diverse communities was buttressed by a complex of ethical perceptions.  France itself was divided physically and ideologically during 1939-45.  Yet despite a motley of opinion, temporarily united by opposition to Nazi domination and its death-cult, France survived, managed reconciliation, ultimately emerging as a sovereign State, entire, once again. Can we learn from this?
Date: 10 May 2016
Time: 6:30 p.m. for 7:00 p.m.
Member Ticket Price: £ 18 including wine and canapes.
Non-member Ticket Price: £ 23 including wine and canapes.
Student Ticket Price: £ 10 including wine and canapes.
Buying Tickets: Payment Information can be found here - View