Talk: Barbara Hulanicki OBE
THIS EVENT IS NOW SOLD OUT. Born in Poland, but raised in England, Barbara Hulanicki OBE is recognized now as a British fashion icon, having been awarded an OBE for Services to Fashion in the 2012 Queen's New Year Honors. Barbara began her career in Fashion in the early 1960′s working as a freelance fashion illustrator covering all the important fashion collections for the major publications of the day, including Women's Wear Daily, British Vogue, the Times, the Observer and the Sunday Times. In 1964 she founded, with her late husband, Stephen Fitz-Simon, the boutique BIBA, beginning as a small mail-order business featured in the fashion columns of newspapers such as the DAILY MIRROR.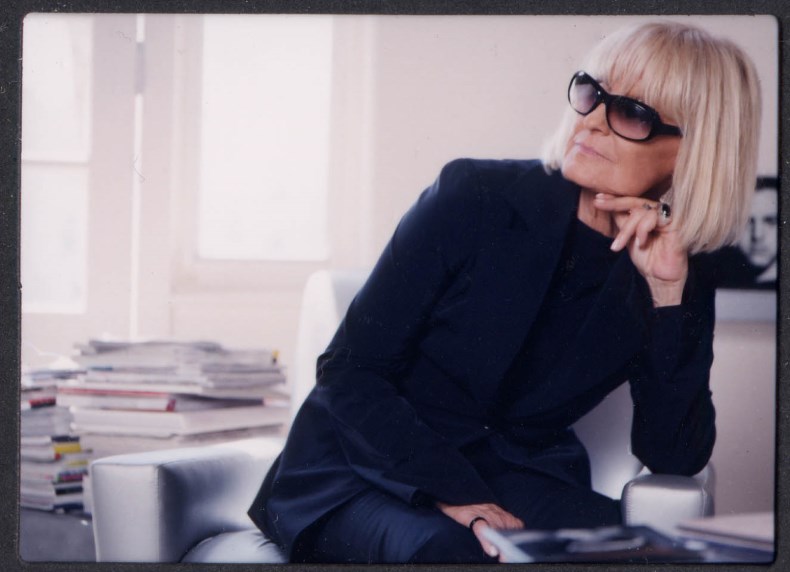 Today, Barbara continues to create her innovative designs as a retail & design consultant to a number of US and UK major fashion and home ware retailers, supplying designs exclusive to each company. Among these are her exclusive collections 'Barbara Hulanicki for George of Asda' which continue to be very successful, the first one having launched in November 2010 and already extended well into 2014. This collaboration started with George at Asda in September 2010 with Barbara creating illustrations for T-Shirts in their Tickled Pink Breast Awareness campaign in September 2010.
Her more recent collaborations are with HOMESENSE / TK MAXX where she has designed an exciting and exclusive Cushion collection that launched in April 2012. And DISNEY Europe, for whom she has in her unique style of Illustration drawn the Disney characters of Maleficent and Diablo, available on Wallpaper, which launched in late 2011 through Graham and Brown. She has also designed exclusive fireplaces for Chesney Ltd. She continues to design new Handbag collections for COCCINELLE, Italy and Wallpapers and Illustrations for GRAHAM & BROWN both of which have retained her since 2003. Through Graham & Brown, Barbara's wallpaper is now available in the UK at NEXT and in the USA at TARGET and her Paint Collection launched in the UK in 2010 at '100% Design London', the UK's leading contemporary interiors event connecting the worlds of architecture and design with innovative, contemporary interior products.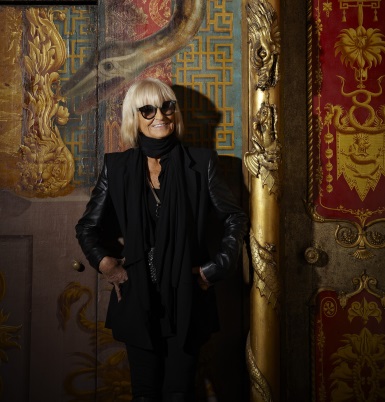 Barbara has been bestowed with Honorary Doctorates from the Academic Institutions Heriot -Watt University in Edinburgh and The University of Brighton. Many more Fashion Design Universities are now approaching her to share the simple but unique ingredients she incorporates into all that she designs.
The Royal Society for the encouragement of Arts, Manufacturers and Commerce (RSA) inducted her in 2009 as a Royal Designer for Industry. Constantly breaking new ground Barbara exhibited her fashion illustrations at Conde Art in Little Havana, Miami in 2014 as well as the Calix Gustav Gallery during the Art Basel Fair Miami Beach 2010, and in 2008, the Coningsby Gallery London featured Barbara's first solo art show, which sold out the night of its debut.
Looking back at her contribution to the creative world, the Biba success story is worthy of a Hollywood movie: a husband and wife, Barbara Hulanicki and her partner, Stephen Fitz-Simon, go into business together against the advice of those around them. After a few false starts and refusing to give up, their last-ditched attempt — a pink gingham dress with a round hole in the back and a matching head scarf — strikes a chord with the public and sells thousands of units, allowing them to open a store which becomes an icon of hip 60′s and 70′s London. It becomes a hangout for artists, film stars and rock musicians, including Mick Jagger and the Rolling Stones, David Bowie and Marianne Faithful among the regulars. The first Biba store was a small Chemist's shop in Abingdon Road, but by the time Biba's doors closed in 1976 it had evolved into an elaborate 5-story Art Deco department store with a restaurant and a roof garden overlooking High Street Kensington. The avant-garde BIBA cosmetics brand was being sold in 33 countries across the globe.
Biba finally closed its doors in 1976, a victim of corporate raiding before the term had even entered the business vernacular. Hulanicki continued to work in Fashion, designing for such fashion greats as Fiorucci and Cacharel and for twelve years, from 1980 to 1992, designed a successful line of children's wear, MINIROCK, licensed to the Japanese market.
In 1980, she returned to the UK from living in glamorous Brazil to open a series of clothing boutiques and start a make-up line, all under her own name. From 1980 to 1987, she worked as a fashion photographer for the London Evening Standard and returned briefly to fashion illustration to draw Sarah Ferguson's wedding dress for the London newspapers. In 1983 she wrote her memoirs in the book FROM A TO BIBA, which was published by Hutchinson's. In 1987 she arrived in Miami Beach where she reinvented herself yet again as a designer of interiors and exteriors, single-handedly re-conceiving Miami Beach's then re-emerging Art Deco District. Her projects began with Woody's on the Beach, which she designed in 1987 for Ron Wood of the Rolling Stones. She created a series of restaurants, night clubs and super-clubs, including Who's in the Grove, Sempers, Match Club and Bolero Restaurant. From 1992 to 1997 she worked for Gloria and Emilio Estefan designing the interiors for their personal recording studios, the Cardozo Hotel on Ocean Drive, their private home on Star Island, costumes for the music video "Mi Buen Amor", as well as consulting on BONGO, the Estefan's restaurant in Disney World, Orlando, with the Architectonica Group.
From 1990 to 2006, Hulanicki has perhaps had the most impact on Miami Beach through her work for Chris Blackwell and his Island Outpost Group. She twice reconceived the MARLIN Hotel, on Collins Avenue, as well as the CAVALIER Hotel, Ocean Drive, the LESLIE Hotel, Ocean drive, The NETHERLANDS building, Ocean Drive, and the KENT on Collins Avenue. Other Caribbean properties she has designed for Blackwell include the COMPASS POINT Hotel and beach resort in Nassau, Bahamas – which is prominently featured in all the Bahamian Tourist Board television commercials – as well as the PINK SANDS resort on Harbor Island, Bahamas.
In 1993 Hulanicki won an award from the American Institute of Architects for her work on the NETHERLANDS, as well as an award from an association of Florida Architects. Hulanicki's other projects have included private luxury homes on Star Island, PalmIsland and Dilido Island in Miami as well as several commercial properties, including the BEACH HOUSES at CORAL SANDS HOTEL on Harbor Island, Bahamas and hotel development for Chris Blackwell's GOLDENEYE in Oracabessa, Jamaica.
One of the crowning achievements of Hulanicki's impact can be witnessed in the opening of the Hollywood hit movie "The Birdcage". A sweeping helicopter shot flows over the waves to zero in on the primary location for the film, the Cleveland Hotel on Ocean Drive, which is flanked by no less than four Hulanicki-designed buildings – the Leslie, the Cardozo, the Cavalier and the Netherlands.
From 2001 to 2002 Barbara worked on the Island life Ministore, located in the heart of Miami Beach on Ocean Drive. Hulanicki renovated this unique shop at owner Chris Blackwell's request. Coined as "tropical lux," the lifestyle store contained a large collection of ethnic gift items, music, film, jewelry and accessories from around the world. It also boasted men's, women's and children's apparel designed by Hulanicki.
Additionally, throughout her career, Hulanicki has designed costumes for several stage and film productions, including clothing for Cathy McGowan on the influential live TV rock show "READY STEADY GO" (1964), outfits for Julie Christie in "DARLING" (1965), costumes for local productions in Miami Beach, costumes for old friend and Biba model Twiggy for "CAPTAIN BEAKY" in London's West End and her Royal Command Performance in 1976.
She also designed Wallpaper and textile designs for HABITAT stores in the UK. In 2008 she designed a fashion collection for TOP SHOP, which included her fashion illustrations used as prints. In 2009, the Victoria and Albert Museum republished her memoirs FROM A TO BIBA and accompanied the book launch with a range of jewelry and scarf designs. Subsequently her autobiography inspired November Films, an Independent Film Company, to document her life and career in a recently released feature film called BEYOND BIBA.
In September 2012, a major fashion exhibition ''Biba and Beyond: Barbara Hulanicki' at Brighton Museum & Art Gallery, opened. It celebrated the innovative, and distinctive creativity that Barbara Hulanicki has brought to all of her work, reviewing her life from her childhood, early career in fashion illustration, and her creation of Biba in the 1960s; to her key role in the regeneration of Miami Beach and her recent High Street fashion and interiors collections. With loans from major collectors and private individuals the exhibition told Hulanicki's story through illustrations, film, fashion, music, photography, ephemera and the memories and reminiscences of those who shared the experience.
Barbara has recently collaborated with the Victoria and Albert Museum in London and the Brighton Pavilion Museum Costume Department on a new Book on Biba to be published in September 2014 to celebrate the 50th Anniversary of the conception of the Biba brand. As a build up to this celebration a number of high profile events are in planning at present including an exclusive 'Audience with Barbara Hulanicki' presented by the celebrated Fashion Editor Hilary Alexander in May 2014 at 'Bath in Fashion' as well as a unique catwalk show using original Biba clothes.
Now as active as ever, Barbara divides her time between Miami Beach and London and has just launched her own online shop called Icon Club. Today using modern fabrics and printing techniques, Barbara has recreated the hugely successful Biba tee shirt for Iconclub. Available exclusively on-line, the brand Iconclub specializes in jersey fashion tees, nighties and accessories such as silk scarves and jumbo canvas bags.
And looking further ahead? Barbara is presently working on a Biba Heritage collection for House of Fraser retailers launching in September 2015 as well as Runway Resort, a new hotel project in Hollywood, Florida opening later this year.
Date: 25 April 2016
Time: 7:00 p.m. for 7:30 p.m.
Member Ticket Price: £ 20 including wine and canapes.
Non-member Ticket Price: £ 20 including wine and canapes.
Buying Tickets: Payment Information can be found here - View