Ognisko Book Club
This July we are launching our brand new Ognisko Book Club! Run in collaboration with South Kensington Books, Ognisko Book Club will explore the joy of discovering new worlds in good books. In the convivial and cosy setting of the Members' Room we can share new book discoveries and return to old friends. Our aim is to appreciate and enjoy literature on an eclectic range of interesting topics encompassing both Polish and British authors. Meetings are free of charge and tea & coffee will be served. Book Club members will also enjoy a 10% discount on all purchases at South Kensington Books.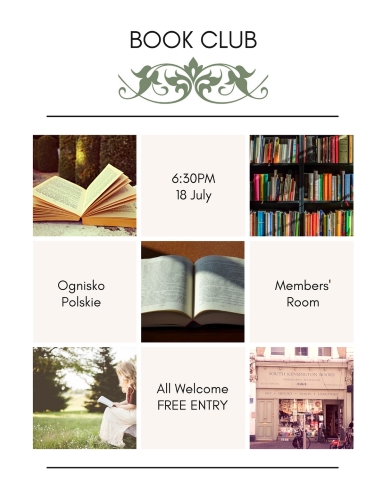 Our first meeting takes place on Tuesday afternoon, 6:30pm on the 18th of July in the Ognisko Polskie Members' Room – located on the second floor of the club. In this first session we will discuss potential titles and introduce ourselves. The club will be led by Alexa Newsome (Ognisko Polskie member) Jessica Savage-Hanford (Ognisko Polskie General Manager) and Charlotte Bunce (Manager, South Kensington Books). Open to all members and guests. All titles and discussion will be in English and Polish books will be read in translation – unless otherwise specified. Titles will be available to purchase at book club meetings.
If you are interested in attending please leave your name via email at office@ogniskopolskie.org.uk or telephone 0207 589 4670.
Date: 18 July 2017
Time: 6:30 p.m.
Buying Tickets: This event is free of charge.