Nowy Czas presents ARTeria 2013
Engaging a viewer in the dialogue we are crossing a multicultural bridge through art. London Bridge a symbolic landmark of the city, can also be understood metaphorically. Throughout the centuries for artists, many of international fame, London became a bridge between their homeland traditions and building their careers enriched by a unique experience of living and working on foreign ground, searching for their own identity. Can we see it in the work of Polish artists conceived on the shores of the river Thames? Does interaction with artists of different nationalities influence their art, and what comes out of that meeting point? Is London a Bridge?
Thursday 14 November Private view starts at 7pm
ARTeria 2013 (art events devised by the Polish monthly Nowy Czas) opening night will be enhanced by A Piacere Trio (Barbara Dziewięcka – violin; Anne Chauveau – cello; Przemysław Dembski – piano; winners of the Audience Prize at St. Martin in the Fields Chamber Music Competition 2013) – and the accordionist Mariusz Miśdzioł in a concert THE ULTIMATE TANGO, featuring works by Astor Piazzolla in their own arrangements combining the traditional classical interpretation with the improvising style and unique instrumentation!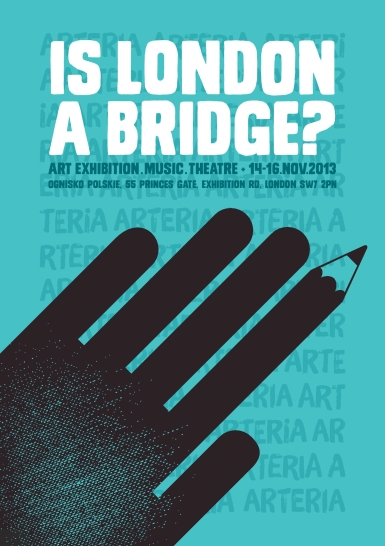 Friday 15 November Exhibition open from 12pm
7.30pm in THE RASPBERRY BUSHES
A theatrical miniature based on an original script aiming to revive the poetry of Bolesław Leśmian whose imagery bursting with daring eroticism gave him a name of one of the greatest love poets of the twentieth century, while his style full of neologisms stretched out the boundaries of Polish language. The show oscillates between the traditional form of theatre production and performance art incorporating live music and elements of audience participation. It tells a story that is tragicomically ambiguous and grotesque, yet retaining the looks of a serious affair. Its playfulness challenges the notion of love conceived as imperishable unity of souls and bodies. Devised, directed and performed by Tatiana Judycka and Dominika Dwernicka, Goldsmiths MA students in the Department of Theatre and Performance, featuring actor Sebastian Pałka in collaboration with musicians Paul Riley, Piero Pierini and Antonio Spina from Beo Live. Supported by Goldsmiths College Special Project Fund.
Saturday 16 November exhibition open from 12pm
7.30pm Monika Lidke
A singer-songwriter of Polish origin, studied classical guitar in Poland, then singing and acting in Paris. She relocated to London in 2005 where she released her debut album of original songs Waking up to Beauty in 2008. With her band she performed at great venues and festivals, such as London Jazz Festival, Manchester Jazz Festival, Ronnie Scott's Bar and Pizza Express Soho. Her music blends jazz and folk with Polish and French roots to create a mesmerising multilingual live show. Monika will perform songs from her forthcoming album If I was to describe you with Kristian Borring on guitar and Tim Fairhall on double-bass. Sarah Ward from Jazz FM London said: "The moment I heard her captivating voice I was hooked. Here's an artist who knows how to invade our dreams".
Participating Artists
Richard Adams / Sławomir Blatton / Andrzej Maria Borkowski / Marek Borysiewicz / Sophie Carpenter / Monika Ciapala / Joanna Ciechanowska / Elżbieta Chojak-Myśko / Agnieszka Engelien / Mengistu Etim / Alan Fletcher / Konrad Grabowski / Agata Hamilton / Barbara Hamilton / Agnieszka Handzel-Kordaczka / Marysia Jaczyńska / Julianna Jagielska / Maria Kaleta / Carolina Khouri / Paweł Kordaczka / Andrzej Krauze / Basia Lautman / Christopher Malski / Tomasz Myśko / Wojciech Sobczyński / Danuta Sołowiej / Tomasz Stando / Ryszard Szydło / Paweł Wąsek / Weef
Curator: Marek Borysiewicz
Design: Monika Ciapala
Organisers: Teresa Bazarnik and Grzegorz Małkiewicz
Date: 16 November 2013
Time: Various see above.
Member Ticket Price: Admission is free but small donations are more than welcome.
Non-member Ticket Price: Admission is free but small donations are more than welcome.
Buying Tickets: Payment Information can be found here - View