Nocturne: The Romantic Life of Frederic Chopin
Lucy Parham, piano with readings by Rula Lenska & Lloyd Owen: The story of the tender, but volatile relationship between Frederic Chopin and the novelist George Sand told through extracts from their letters and diaries, counterpointed with some of the composer's best-loved works. All proceeds go to the charity 'Help People with Autism in Poland'.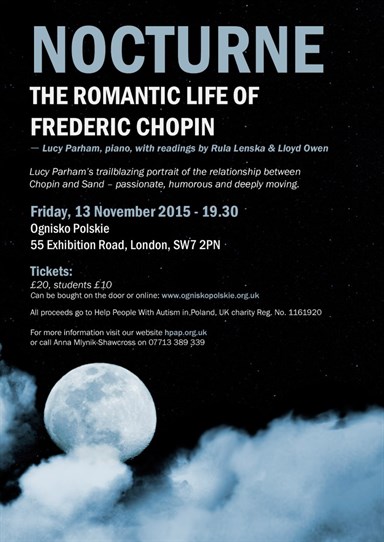 "Lucy Parham's trailblazing evening concerts in which she fuses music and words with the help of some of our most distinguished thespians have become one of the must-see events on the musical calendar." BBC Music Magazine April 2014
LUCY PARHAM
Acknowledged as one of Britain's finest pianists, Lucy Parham applies her sensitivity and imagination not only to concertos and recitals, but also to portraits in words and music of such composers as Schumann, Chopin, Liszt and Debussy. lucyparham.com
RULA LENSKA
Needs no introduction to the Ognisko audience - celebrated actress of TV, stage and cinema, star of TV series "Rock Follies" and "Take a Letter" rulalenska.co.uk
LLOYD OWEN
Shakespearean stage and TV actor, husband of Beatrix Potter in popular film "Miss Potter"   en.wikipedia.org/wiki/Lloyd_Owen
Help People with Autism in Poland
Photographs of our artists as well as more information about the building project can be supplied on request. Please contact: ANNA MLYNIK-SHAWCROSS on anim22@hotmail.com
For more about HPAP you can also visit our webpage: hpap.org.uk or find us on Facebook facebook.com/helppeoplewithautism
Date: 13 November 2015
Time: 7:30 p.m.
Member Ticket Price: £ 20
Non-member Ticket Price: £ 20
Student Ticket Price: £ 10
Buying Tickets: This event is Sold Out