New Art Series - Ewa Gargulinska
Join us this October for the first in a new art series at Ognisko Polskie. We will be hosting temporary exhibitions in the Members' Room featuring the best in Polish contemporary artists. Our first artist is London-based Ewa Gargulinska whose paintings have been exhibited in Rome, Paris, Stockholm, Beijing, London with collectors such as Jeremy Irons and Dr. Arthur Sackler. The opening night will include a wine reception. The exhibition will then be available to view, by members, in the Members' Room. Please write to office@ogniskopolskie.org.uk to register.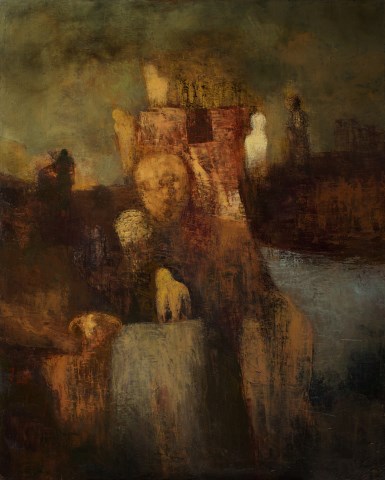 At The Temple, 2016, oil on canvas
Ewa Gargulinska
Stylistically a romantic expressionist, Ewa Gargulinska uses dramatic interplay of the opposite forces of abstract and figurative in unpredictable yet powerful interactions, where the worlds between imagination and reality connect. She uses metaphors and mythology to express emotional, spiritual and metaphysical states of mind, relating to her experiences of life's mysteries. She draws images from both her imagination and collective symbolism, pondering how spirit animates matter and how it leaves the body.
Ewa's art is exhibited and represented internationally including: the National Museum in Krakow, the National Museum of Women in the Arts Archives in Washington, the Copernicus University Archives, Torun, and Madame Tussauds in London. Her work is collected worldwide, most notably by Dr. Arthur Sackler (founder of the new wing at the Royal Academy, London and the extensions to the Metropolitan and Smithsonian Museums in the U.S.A), Jeremy Irons and Sir Michael Scott.
Date: 31 October 2017
Time: 7:00 p.m.
Buying Tickets: This event is free