Musical Moments September 2016
We are happy to announce the latest of our monthly 'Musical Momments'. These concerts take place on the first Monday of every month and are followed by a buffet with wine. This month we welcome Drew Steanson playing piano. The 'Musical Moments' concerts have been made possible by the very kind cooperation of The Trinity Laban Conservatoire of Music and Dance. We are very privileged in being able to present these young, highly talented musicians who are already making their mark in the music world.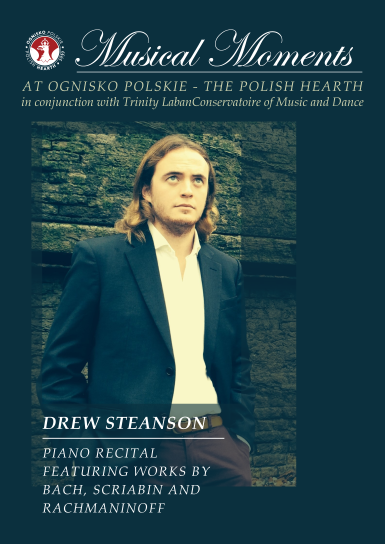 23-year-old British-Australian pianist, Drew Steanson is currently studying at Trinity Laban Conservatoire of Music and Dance as Beverley Creed and Jaqueline Williams scholar under the tutelage of Martino Tirimo. Drew began receiving piano lessons in January 2007 and passed Grade 8 with distinction in February 2010. He recently finished his undergraduate degree with Philip Jenkins at the Guildhall School of Music and Drama. Previously he studied at Peter Symonds College in Winchester where he participated in the Hampshire Specialist Music Course and gave a concerto performance at Thornden Hall.
While at Guildhall he won many prizes including the title of Newbury Young Musician of the Year 2012 and the Guildhall Romantic Piano Prize 2015. Drew has played in many of London's most prestigious concert halls including the Royal Festival Hall, Wigmore Hall, St James's Piccadilly, Steinway Hall and at Inner Temple in the Temple Young Emerging Artist Series. He has played to many distinguished pianists including Idil Beret, Vladimir Tropp, and Angela Hewitt. Drew became a Young Steinway Artist in April 2016, and acknowledges the generous support from the Hampshire Foundation for Young Musicians.
Date: 05 September 2016
Time: 7:00 p.m. for 7:30 p.m.
Member Ticket Price: £15 including concert, buffet and wine.
Non-member Ticket Price: £18 including concert, buffet and wine.
Buying Tickets: Payment Information can be found here - View