Musical Moments October 2017
We are happy to announce the latest of our monthly 'Musical Momments'. These concerts take place on the first Monday of every month and are followed by a buffet with wine. This month we welcome the Isbilia String Quartet. The 'Musical Moments' concerts have been made possible by the very kind cooperation of The Trinity Laban Conservatoire of Music and Dance. We are very privileged in being able to present these young, highly talented musicians who are already making their mark in the music world.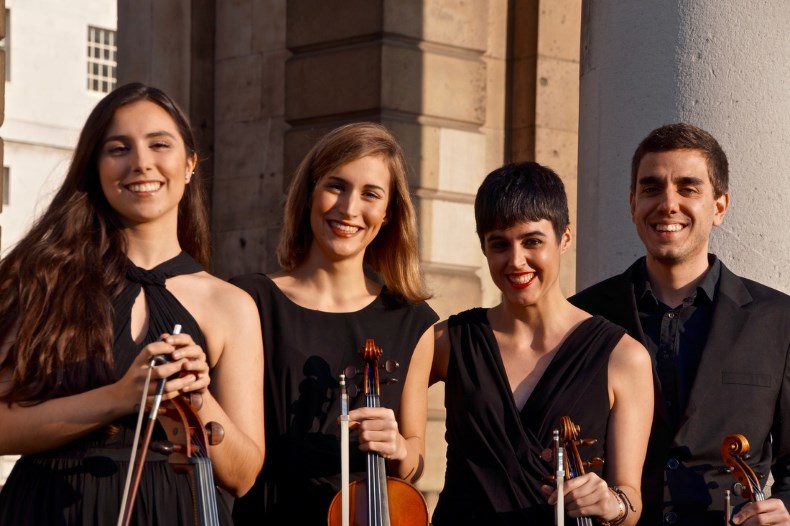 Isbilia String Quartet
The  Isbilia String Quartet are Enrique Santiago, Beatriz Carbonell, Rosalía López and Cristina Cooper.
Proud winners of the Cavatina Intercollegiate Chamber Music Competition 2016, the John Thompson String Ensemble Prize and the John Barbirolli String Quartet Competition 2016, the Isibilia Quartet are enjoying a busy season performing around the UK and Spain. They gave their St Martin-in-the-Fields debut concert on the 4th of April this year.
Since forming, the Isbilia Quartet has performed in major venues, including the Wigmore Hall, St Martin-in-the-Fields and King's Place. There group successfully auditioned for a place on the Trinity Laban 'Quartets in Residence Mentorship Programme 2015 / 2016' and worked alongside with the Carducci Quartet and Wihan Quartet. During that year, they recorded Shostakovich's String Quartet No.8 Op.110 and Beethoven's String Quartet No.3, Op18. Collaborations with composers include the UK premier of Con Aire de Tango, by award-winning composer and pianist Arturo Cardelús. They have studied and received masterclasses from members of the Brodsky Quartet, Van Kujy Quartet, Cuarteto Quiroga, Rivka Golani and David Kenedy.
Programme
Ludwig van Beethoven (1770 – 1827)
String Quartet No 3 in D major, Op 18
Maurice Ravel (1875 – 1937)
String Quartet in F major
Date: 02 October 2017
Time: 7:00 p.m. Drinks - 7:30 p.m. Concert
Member Ticket Price: £15 including concert, buffet and wine.
Non-member Ticket Price: £18 including concert, buffet and wine.
Buying Tickets: Payment Information can be found here - View