Musical Moments October 2016
We are happy to announce the latest of our monthly 'Musical Momments'. These concerts take place on the first Monday of every month and are followed by a buffet with wine. This month we welcome the Incanto Flute Quartet. The 'Musical Moments' concerts have been made possible by the very kind cooperation of The Trinity Laban Conservatoire of Music and Dance. We are very privileged in being able to present these young, highly talented musicians who are already making their mark in the music world.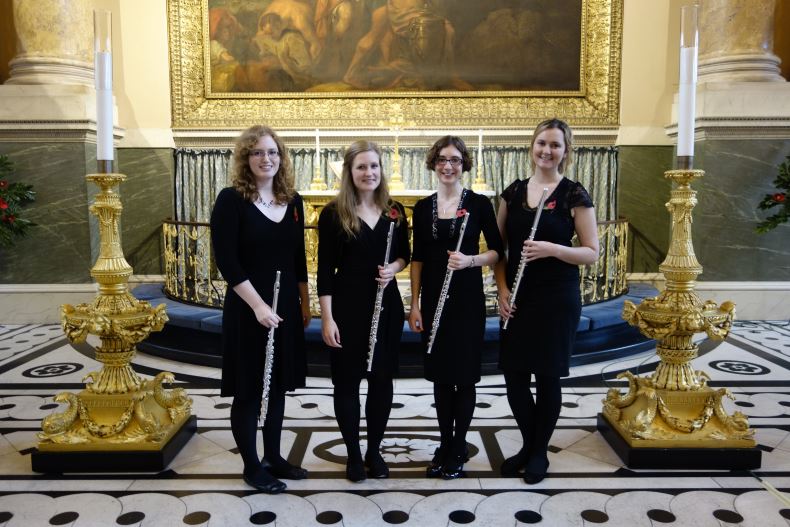 Incanto Flutes is an award-winning quartet formed at Trinity Laban Conservatoire of Music and Dance.  They made their debut performance at The Old Royal Naval College Chapel, Greenwich in 2015 and have since performed recitals at a number of venues including Cheltenham Town Hall.  They have enjoyed success in the ENKOR International Music Competition (2nd prize) and at the Stratford Music Festival (1st prize, chamber music), and recently performed in a masterclass with members of the Royal Stockholm Philharmonic Orchestra.
Incanto Flautists Ami Lodge, Sarah Ovenden, Susie Walsh and Zara Jealous met whilst studying for their masters degrees at Trinity Laban.  They are all active orchestral musicians and soloists in their own right.
Programme
A performance of flute quartet music from Mozart to Bozza.
W A Mozart (1756 – 1791) Overture to The Marriage of Figaro
Frederick Kuhlau (1786 – 1832) Quatuor de flûtes
Jean-Michel Damase (1928 – 2013) Grand Quartet in E Minor, Op. 108
Anthony Girard (1959 - ) Printemps des rivières
Cecilia McDowall (1951 - ) Hotfoot
Eugène Bozza (1905 – 1991) Jour d'été à la montagne
Date: 03 October 2016
Time: 7:00 p.m. for 7:30 p.m.
Member Ticket Price: £15 including concert, buffet and wine.
Non-member Ticket Price: £18 including concert, buffet and wine.
Buying Tickets: Payment Information can be found here - View