Musical Moments October 2015
We are happy to announce the latest of our monthly 'Musical Momments'. These concerts take place on the first Monday of every month and are followed by a buffet with wine. This month Naufal Mukumi will be playing piano. The 'Musical Moments' concerts have been made possible by the very kind cooperation of The Trinity Laban Conservatoire of Music and Dance. We are very privileged in being able to present these young, highly talented musicians who are already making their mark in the music world.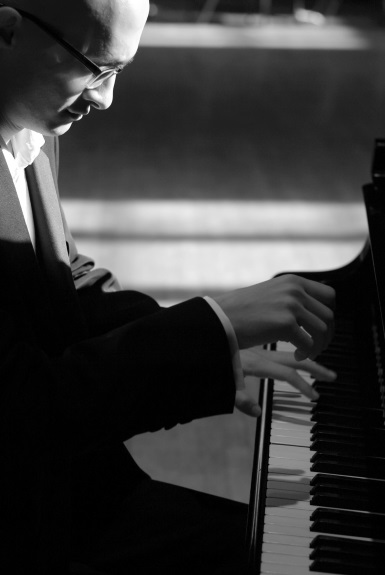 Biography
Naufal Mukumi was born in Tashkent, Usbekistan, where he began his music studies in 1998 with professor Popovich at the Uspensky Specialised School of Music. He since began winning international prizes including in 2002 in France and Lithuania, 2003 and 2004 in the USA, and 2005 in Russia. In 2007 a major scholarship drew him to the Purcell School under the tutelage of Tessa Nicholson. In 2009 he was a finalist at the International Franz Liszt Competition in Weimar, Germany. Supported by further music scholarships he moved to the Trinity Laban Conservatoire of Music and Dance in London to study for his bachelor degree under Professor Deniz Gelenbe, graduating in 2013 with first class honours and the conservatoire's Silver Medal Award. During his undergraduate studies he was a winner of further competitions and prizes, including the Eastbourne Symphony Orchestra Young Soloist Competition in 2013. His performance of Balakirev's Islamey was broadcast on Classic FM and he won the first prize in the 16th Santa Cecilia International Piano Competition.
Naufal is continuing his performance studies under Professor Gelenbe at the Trinity Laban Conservatoire. He has been supported in his studies by the TCL Sholarship Boise Foundation Scholarship, Loveday Scholarship and Derek Butler Scholarship. Naufal won the 2015 Trinity Laban Soloists' Competition with Rachmaninov's Piano Concerto No 1 and performed this work with the Trinity Laban Symphony Orchestra, conducted by Paul Daniel, on 23rd June at Cadogan Hall. 
Programme
Frédéric Chopin (1810 – 1849) Preludes  
Alexander Scriabin (1872 – 1915) Preludes
Date: 05 October 2015
Time: 7:00 p.m. for 7:30 p.m.
Member Ticket Price: £15 including concert, buffet and wine.
Non-member Ticket Price: £18 including concert, buffet and wine.
Buying Tickets: Payment Information can be found here - View