Musical Moments November 2017
We are happy to announce the latest of our monthly 'Musical Momments'. These concerts take place on the first Monday of every month and are followed by a buffet with wine. This month we welcome Bon Duo: Elena Abad, violin and Yaoying Wang, piano. The 'Musical Moments' concerts have been made possible by the very kind cooperation of The Trinity Laban Conservatoire of Music and Dance. We are very privileged in being able to present these young, highly talented musicians who are already making their mark in the music world.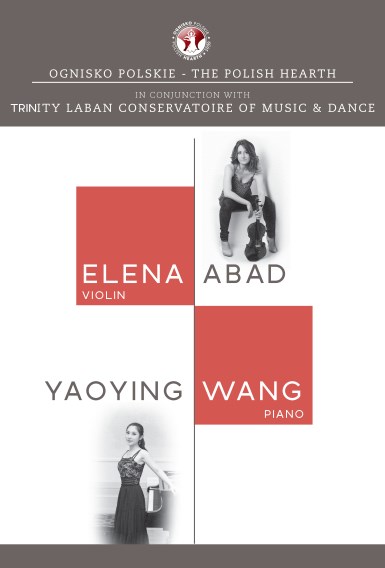 Elana Abad
Born in Spain, Elena began learning the violin at age seven with professor Ara Vartanian and gave her debut solo recital aged 8 in Fuengirola (Málaga). From a very young age she performed violin concertos by Bach, Vivaldi, and Accolay with the Soloists of Malaga Chamber Orchestra. She moved to London in 2007 to study with Evgeny Grach at the prestigious Purcell School of Music for Young Musicians with a scholarship. She finished her Bachelor's degree in 2015 at The Guildhall School of Music and Drama, and at present, she continues her studies at Trinity Laban Conservatoire of Music and Dance with Professor Ofer Falk as a Violet Wright, Beatrice Taylor, Helen Roll Trust  and Trinity College London Scholar.
Elena has performed in major venues in the UK including the Queen Elizabeth Hall, Royal Albert Hall, Barbican Hall, Wigmore Hall, Cadogan Hall, St Martin-in-the-Fields, St John's Smith Square and St James's Piccadilly. She has also performed various violin concertos with orchestras such as the Torbay Symphony Orchestra, the Harrow Symphony Orchestra and the Promusica Orchestra.
Elena is a recipient of various awards, having won prizes in competitions including the Young Performers Ciudad de Bollullos National Competition, Villanueva del Rosario National Competition, and the Fuengirola Conservatoire Competition. She was also finalist at the Yamaha European Foundation Competition, and Vivian and Joseph Classical Concerto Competition.
As a chamber musician, she was selected on three occasions to perform at the Wigmore Hall. She was also recently awarded the first prize at the Leonard Smith and Felicity Young Duo competition with her duo partner Yaoying Wang.  Elena is also a very enthusiastic orchestral player, and she has worked with several renowned orchestras including the BBC Symphony Orchestra, the London Symphony Orchestra and the Bournemouth Symphony Orchestra. She has also been leader of the London City Orchestra and the Audeat Camerata.
Yaoying Wang
Pianist Yaoying Wang has performed in major venues including the Purcell Room, South Bank Centre, The Steinway Hall, Kings Place, the Dukes Hall, St Martin-in-the-Fields, David Jones Recital Hall, Marlow Piano Society, Amaryllis Fleming Concert Hall and Liaoning Grand Theatre.
Yaoying has played piano concertos with several orchestras across Europe and won top prizes, including the Asian TOYAMA Cup Piano Competition and the Yamaha Piano Competition in China. She was recently a finalist in the John Longmire Piano Competition and the Alfred Kitchen Piano Competition, semi-finalist of the Trinity Laban Soloist Competition, and the first prize winner at the Leonard Smith and Felicity Young Duo Competition with her duo partner, violinist Elena Abad.
Yaoying is an experienced chamber music performer with a wide range of repertoire. She has been a member of chamber groups performing in venues such as King's Place, St Martin-in-the-Fields, and the Amaryllis Fleming Concert Hall.
Yaoying initially studied with Danwen Wei, one of the few students of the great pianist Vladimir Horowitz. In 2004 she entered the Shenyang Conservatory of Music's pre-college with the highest mark in the audition for admission. Yaoying decided to study in London and in 2013 she received her Bachelor of Music degree from the Royal Academy of Music, and Master of Music degree from the Royal College of Music in 2015, studying with leading English pianist Colin Stone and international concert pianist Gordon Fergus-Thompson. Currently she is studying for her Postgraduate Artist Diploma at Trinity Laban Conservatoire of Music and Dance as a Trinity Laban Award Scholar and a Trinity College London Scholar. She is also supported by the Leverhulme Arts Scholarship and the Alfred Kitchen Scholarship, studying with Deniz Gelenbe and Peter Tuite.
Programme
Beethoven: Violin Sonata No 2 in A major, Op 12
I. Allegro vivace
II. Andante, più tosto allegretto
III. Allegro piacevole
Brahms: Violin Sonata No 2 in A major, Op 100
I. Allegro amabile
II. Andante tranquillo — Vivace — Andante — Vivace di più — Andante — Vivace
III. Allegretto grazioso (quasi andante)
Date: 06 November 2017
Time: 7:00 p.m. Drinks - 7:30 p.m. Concert
Member Ticket Price: £15 including concert, buffet and wine.
Non-member Ticket Price: £18 including concert, buffet and wine.
Buying Tickets: Payment Information can be found here - View