Musical Moments November 2016
We are happy to announce the latest of our monthly 'Musical Momments'. These concerts take place on the first Monday of every month and are followed by a buffet with wine. This month we welcome Emily Gray, soprano. The 'Musical Moments' concerts have been made possible by the very kind cooperation of The Trinity Laban Conservatoire of Music and Dance. We are very privileged in being able to present these young, highly talented musicians who are already making their mark in the music world.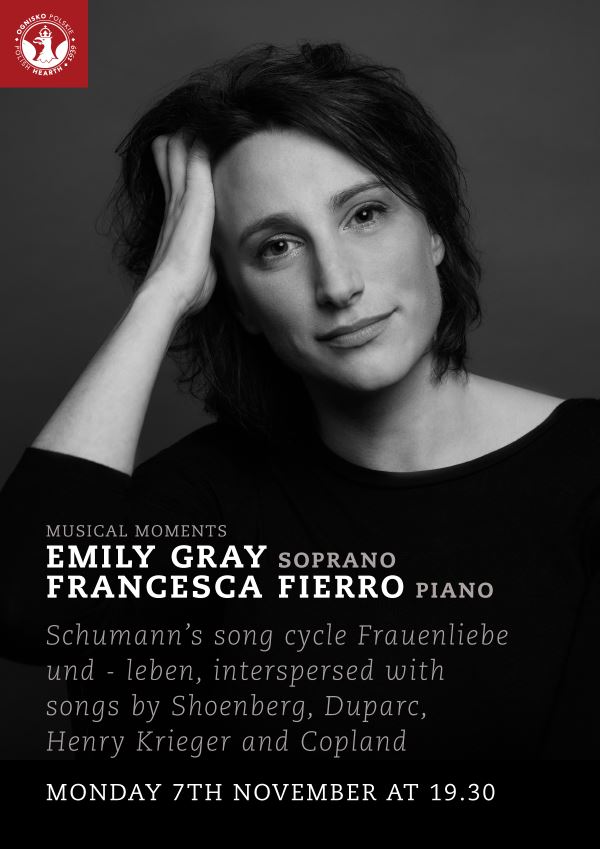 Emily Gray presents Schumann's song cycle Frauenliebe und -leben, interspersed with songs by Shoenberg, Duparc, Henry Krieger and Copland.
Award-winning mezzo-soprano Emily Gray achieved success at an early age when she was named BBC Radio 2 Choir Girl of the Year 2000, leading to a number of television appearances including Songs of Praise, ITV Calendar, BBC Look North and radio interviews with Radio 2, 3 and Women's Hour.  She went on to record the album Passiontide for Naxos.  Reaching number 8 in the classical charts, Emily was nominated for two Brit Awards and this was followed by a UK arena tour to audiences of twenty to thirty thousand.
Emily now regularly sings in and around London both as a soloist and as a member of various vocal groups.  She also runs vocal and sight-reading workshops for community choirs in the North London area and for the staff at Google's London office.  She recently recorded another album due for release in 2016 and is currently continuing her training under Linda Hirst at the Trinity Laban Conservatoire of Music and Dance.
Date: 07 November 2016
Time: 7:00 p.m. for 7:30 p.m.
Member Ticket Price: £15 including concert, buffet and wine.
Non-member Ticket Price: £18 including concert, buffet and wine.
Buying Tickets: Payment Information can be found here - View