Musical Moments November 2015
We are happy to announce the latest of our monthly 'Musical Momments'. These concerts take place on the first Monday of every month and are followed by a buffet with wine. This month Duo Realia will be playing violin. The 'Musical Moments' concerts have been made possible by the very kind cooperation of The Trinity Laban Conservatoire of Music and Dance. We are very privileged in being able to present these young, highly talented musicians who are already making their mark in the music world.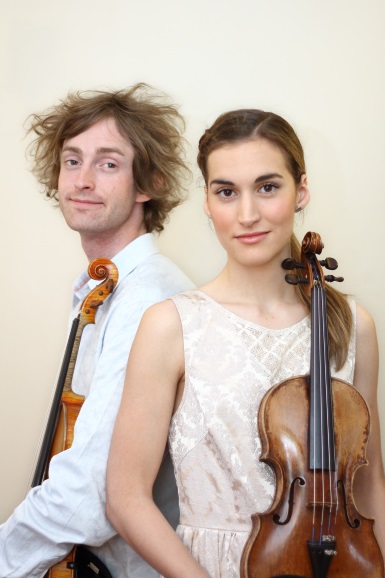 Biography
Duo Realia are Beatriz Carbonell and Kieran Burling. They began playing together in Summer 2014 at Trinity Laban Conservatoire of Music and Dance, and are keen to explore a varied repertoire. The duo recently won the 2015 Trinity Laban Early Music Competition with their performance of Leclair, and also perform works by 20th century and contemporary composers.
Duo Realia aim to make chamber music more accessible and exciting using video and social media to engage with a wider audience, and are active on YouTube, where they have presented several successful video series. The duo have performed and played in masterclasses at Trinity Laban, The Wigmore Hall and Old Royal Naval College Chapel, and have received coaching from The Wihan Quartet, Michael Bochmann and John Crawford.
Beatriz completed her undergraduate studies at Conservatorio Superior de Musica de Aragón, studying violin with Enrique Palomares and Pablo Suarez. She is now continuing her studies at postgraduate level at Trinity Laban, where she studies with Michael Bochmann. Beatriz is a member of the highly-active London-based Isbilia Quartet, and is grateful for the support of Trinity College and Margaret Harris Scholarships.
After reading music at Royal Holloway, Kieran completed his violin studies at postgraduate level at Trinity Laban under John Crawford. Interested in varied styles of performance, Kieran is involved with diverse groups playing various styles, including gypsy jazz at the Windsor Festival, Steve Reich at the Southbank Centre, Klezmer, with his band Merlin's Payos, and Progressive Rock with The Connoisseur, winners of the 2015 Conservatoire Cup.
Programme
Jean-Marie Leclair (1697-1764) Sonata for 2 Violins in E Minor, Op. 3 No. 3
Will Howarth (1994-) 3 Nocturnes   
Sergei Prokofiev (1891-1953) Sonata for 2 Violins in C Major, Op. 56
Béla Bartók (1881-1945) Selections from 44 Duos for 2 Violins, Sz. 98
Date: 02 November 2015
Time: 7:00 p.m. for 7:30 p.m.
Member Ticket Price: £15 including concert, buffet and wine.
Non-member Ticket Price: £18 including concert, buffet and wine.
Buying Tickets: Payment Information can be found here - View