Katie Sazanova
Katie Sazanova is in her final year at Trinity Laban Conservatoire for Music and Dance, studying towards a Master of Arts degree with Anna Pope, Wissam Boustany and Christopher Green. Her studies are generously supported by Trinity Laban Conservatoire, The Countess of Munster Musical Trust, The Kathleen Trust, The Richard Stapley Foundation and the Dorothy Grinstead Memorial Fund.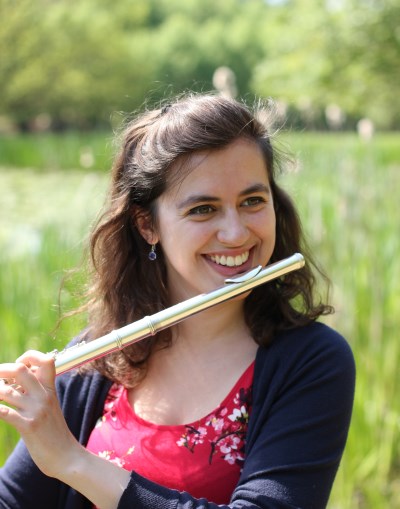 In 2018, Katie won the Flutes in Tuscany Young Artist competition held in Tereglio, where she performed a solo recital and gained a sponsored place as part of her award. She also won a place in the final round of the Harold Clarke Woodwind Competition. In recent years, Katie has won the Birmingham Conservatoire Woodwind Prize, has been Highly Commended in the British Flute Society Competition and performed as a finalist in the Doris Newton Club Prize. She was also a finalist in The Sylvia Cleaver Chamber Music Competition with The Mondelli Wind Quintet.
Katie has enjoyed various chamber and orchestral opportunities since moving to London, including performances with Queen's Park Sinfonia, Bury Court Opera, Winchester City Festival Orchestra, RCM Orchestra, Marches Sinfonia and a side-by-side project with The London Sinfonia and Trinity Laban Symphony Orchestra. Katie also thoroughly enjoys combining theatricality with her playing. She has performed as a flute-playing blackbird in Bury Court Opera's Mad King Suibhne, and spent 6 months onstage in the production Any Port in a Storm with Giffords Circus.
Katie is also a passionate teacher with five years experience teaching privately and in schools across Birmingham and London. She loves helping students of all ages and abilities to realise their goals, and works towards them in creative and inspiring ways.
Daniel King Smith
Daniel is a sought-after and accomplished piano accompanist. He has held staff accompanist posts at both Royal College of Music and Royal Academy of Music Junior Departments, and at the Purcell School. He regularly accompanies auditions, lessons, masterclasses and end of year recitals at all of the London conservatoires, as well as being official accompanist for the Countess of Munster Trust. Daniel gives recitals every year with a number of people who have been accepted onto the Countess of Munster Recital Scheme as well as both the Tillett Trust and Making Music Recital Schemes. He is also official accompanist for the Tunbridge Wells International Young Concert Artists competition.