Musical Moments March 2017
We are happy to announce the latest of our monthly 'Musical Momments'. These concerts take place on the first Monday of every month and are followed by a buffet with wine. This month The Ahijado-Pagan Duo present 4-hands piano arrangements of Tchaikovsky's ballet music, including the Sleeping Beauty and Swan Lake suites. The 'Musical Moments' concerts have been made possible by the very kind cooperation of The Trinity Laban Conservatoire of Music and Dance. We are very privileged in being able to present these young, highly talented musicians who are already making their mark in the music world.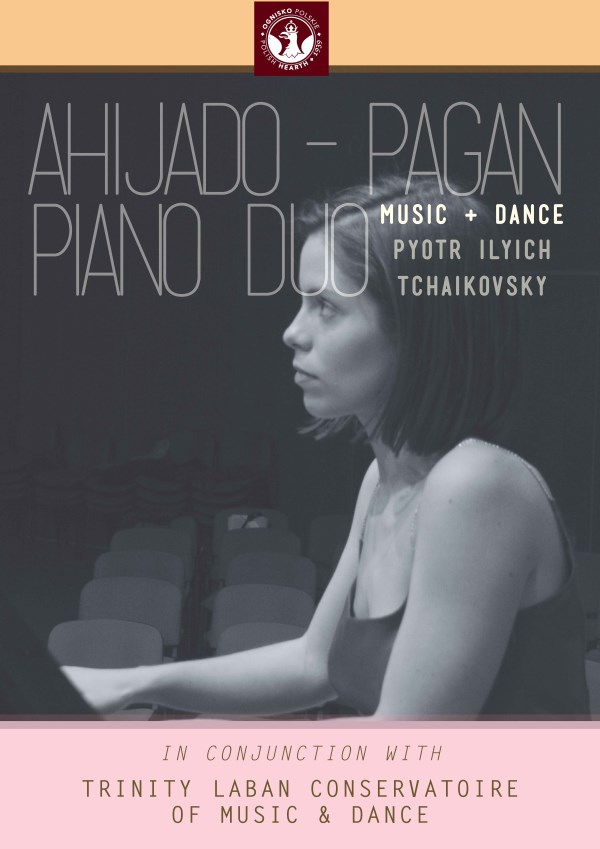 Programme
Pyotr Ilyich Tchaikovsky (1840 - 1893)
Swan Lake
Scène - Valse - Danses des cygnes - Scène - Danse hongroise. Czardas - Scène
The Sleeping Beauty
La fée des lilas - Adagio. Pas d'action - Pas de caractère - Panorama - Valse
The Ahijado-Pagan Duo
The Ahijado-Pagan Duo was formed during a series of concerts performed at the Sociedad de Amigos del País of Jaén, Spain. After several solo performances at this hall, Angela and Mario were offered the opportunity to perform as a piano duo. This presented an ideal opportunity to begin a new project that allowed exploration of four hands piano repertoire focussing on Tchaikovsky's suite ballets. This music was welcome by audiences, and following a number of performance the idea was formed of a collaboration with contemporary dancers, who would reinterpret and reimagine responses to Tchaikovsky's music. Thanks to Trinity Laban Conservatoire of Music and Dance, and the conservatoires' Colab Festival 2017, this new adventure became possible.
Ángela Pagán
Ángela Pagán is a piano student for life. She believes in constantly developing and improving her craft. She studied at Villena Professional Conservatoire of Music and Dance with José Fernando Sirera, while completing her training in Ricardo Requejo's piano seminar. After that, she was awarded her bachelors' degree from Bonifacio Gil High Conservatoire of Music in Badajoz, where she had been a pupil of Ángel Sanzo. She has also studied with Nino Kereselidze at Katarina Gurska Advanced Performance School and she holds a Postgraduate Diploma with High Distinction from Trinity Laban Conservatoire of Music and Dance, London, where she studied under the tutelage of Martino Tirimo.
Angela has attended masterclasses with internationally-renowned pianists Andrew Zolinsky, Jura Margulis, Jerome Rose, Pascal Rogé and others. Ángela has performed in venues such as Conde Duque Auditorium and Palacio de Cibeles in Madrid and The Burg House in London, to name a few. Competition success has seen her claim first prize in the Villa de Caudete Competition of Young Artists, first prize in the Villamalea Soloists Competition, and second prize in the Quintanar del Rey Young Soloists Competition.
With regard to chamber music, Ángela enjoys taking part in festivals and competitions. She has established a piano duo with Mario Ahijado and together with tenor Sandeep Gurrapadi, (with whom she was a finalist in the Lillian Ash French Song Duo competition), she has received coaching from Patricia Rozario, Deniz Gelenbe and Eugene Asti.
Her studies have been generously supported by a grant from DKV Seguros, The Henry Wood Accommodation Fund and The Trinity Laban Hardship Fund. Ángela is delighted to have been offered a scholarship on the masters' in piano performance course at Trinity Laban Conservatoire, where she will be studying with Mikhail Kazakevich from September 2016.
Mario Ahijado
Spanish pianist Mario Ahijado made his concerto debut with RTVE Symphony Orchestra and Andrew Gourlay in 2013. He has since performed in numerous concert halls across Europe and South America. Mario is currently studying at the Royal College of Music, London for a masters' degree with Dina Parakhina, as an RCM Award Holder supported by a George Stennett Award and an Olive Rees Prize. He received distinction for his bachelors' degree from the High Conservatory of Badajoz (Spain) with Ángel Sanzo and for his bachelors' degree in Jazz Piano from the University of Évora (Portugal), where he was taught by Óscar M. De Graça, Filipe Melo and Juan G. Galiardo.
Mario has won prizes in several national and international competitions, including the International Chopin Piano Competition of Granada, and First Prize and Best Pianist Prize at the National Intercentros Melómano Competition, resulting in invitations from across Spain.
Since his debut as soloist, Mario has performed with orchestras including the Medellín Philarmonic Orchestra (Colombia) and Filarmonía Orchestra (Spain), appearing at venues such as the Auditorio Nacional and Teatro Monumental in Madrid. He has also regularly given piano recitals at music festivals such as the Spanish Music Festival of Cádiz and the International Festival of Santander. His performances has been broadcast on Spanish National Radio (RNE) and Spanish National Television (RTVE).
An active jazz musician, Mario has also appeared at festivals such as the International Jazz Festival of Badajoz (Spain) and Festa do Jazz do São Luiz (Portugal). He is currently working on original jazz arrangements of Chopin's Nocturnes with the Mario Ahijado Trio.
Date: 06 March 2017
Time: 7:00 p.m. Drinks - 7:30 p.m. Concert
Member Ticket Price: £15 including concert, buffet and wine.
Non-member Ticket Price: £18 including concert, buffet and wine.
Buying Tickets: Payment Information can be found here - View