Musical Moments June 2017
We are happy to announce the latest of our monthly 'Musical Momments'. These concerts take place on the first Monday of every month and are followed by a buffet with wine. This month we welcome Helena Svigelj, cello and Amos Lucidi, piano. The 'Musical Moments' concerts have been made possible by the very kind cooperation of The Trinity Laban Conservatoire of Music and Dance. We are very privileged in being able to present these young, highly talented musicians who are already making their mark in the music world.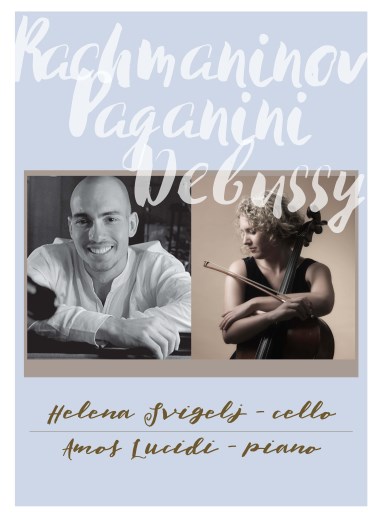 Programme
Niccolò Paganini (1782 – 1840)
Variations on One String on a Theme by Rossini
Claude Debussy (1862 – 1918)
Sonata for Cello and Piano in D minor
Sergei Rachmaninov (1873 – 1943)
Sonata for Cello and Piano in G minor, Op. 19
Helena Švigelj
Young Slovenian cellist Helena Švigelj is multi-award winning postgraduate student at Trinity Laban Conservatoire of Music and Dance. Recently, she has won the Vera Kantrovich and Vivian Joseph prizes. As soloist she has performed with Slovenian Philharmonics Orchestra, Orchestra of Royal conservatory of Mons (In Belgium and France), Orchestra de chambre de Wallonie and NOVA philharmonics (in Slovenian Philharmonic Hall).
Helena has played at festivals Les sons intensifs in Lessines, Belgium, Il Concertando Festival in Rome, and Festival Lent in Slovenia. She has performed with many other established musicians, such as Rivka Golani, Jodie Devos, Uxia Martinez Botana, Michael Hampton, Jerome Pernoo, and David Cohen. Helena is grateful to Trinity Laban, who supports her study.
Amos Lucidi
Regarded as one of the most outstanding young Mexican musicians, Amos Lucidi has performed extensively as soloist and in chamber groups in Mexico, Italy and the United Kingdom. He is currently studying for a Master of Arts in piano performance at Trinity Laban Conservatoire of Music and Dance, under the guidance of the internationally renowned pianist Mikhail Kazakevich and Peter Tuite. He is recipient of the Alfred Kitchin and Rosamund Mott scholarships, as well as the NOSWAD Charitable Trust.
Winner of the 3rd place at the first piano competition José Jacinto Cuevas in Mérida, Mexico in 2008 and 2nd place at Premio Crescendo 2014 in Florence, Italy. His performances have also been recognized in masterclasses with important pianists as Pascal Rogé, Lilya Zilberstein, Enrico Pace, Martyn van den Hoek and Jorge Federico Osorio.
Amos' solo repertoire comprises a wide range of authors from the baroque to the 20th century music, especially focusing on late Russian composers as Scriabin, Rachmaninov and Prokofiev. He frequently includes music from the Mexican composers, Manuel M. Ponce and José Rolón, in his recitals.
Amos believes that the experience of a live performance can touch our consciousness and change the way we look at the world, thus making us better human beings.
Date: 05 June 2017
Time: 7:00 p.m. Drinks - 7:30 p.m. Concert
Member Ticket Price: £15 including concert, buffet and wine.
Non-member Ticket Price: £18 including concert, buffet and wine.
Buying Tickets: Payment Information can be found here - View