Musical Moments July 2017
We are happy to announce the latest of our monthly 'Musical Momments'. These concerts take place on the first Monday of every month and are followed by a buffet with wine. This month we welcome Opera in the Meantime. The 'Musical Moments' concerts have been made possible by the very kind cooperation of The Trinity Laban Conservatoire of Music and Dance. We are very privileged in being able to present these young, highly talented musicians who are already making their mark in the music world.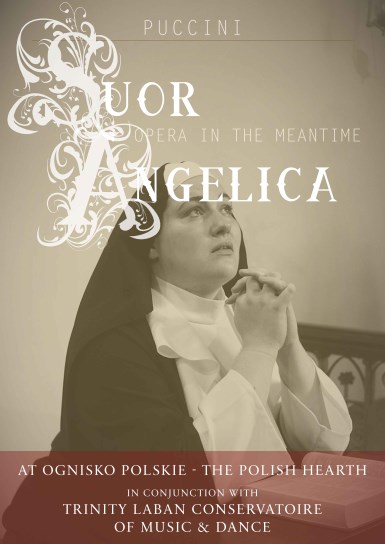 Opera in the Meantime
Opera in the Meantime is a brand new opera company based in Greenwich. A small group of talented young singers and musicians present 'Suor Angelica', one of Puccini's best-loved operas. 'Suor Angelica' begins by painting a beautiful picture of the quiet life lived in a rural convent. There is mystery surrounding one nun in particular, Sister Angelica, whose sad past emerges as the plot unfolds.' Suor Angelica' runs for approximately one hour, originally written to be performed as part of Puccini's trio of operas 'Il Trittico'.
Director - Lucy Elston
Musical Director - Sam Jewison
Piano accompaniment - Laurence Panter / Ben Socrates (8th July only)
Designer - Guy Elliott
Cast
Suor Angelica - Madeleine Bradbury
Rance Principessa - Jasmine Adrian-Dawson
Genovieffa - Lucy Elston
Novice/Lay Sister 1 - Verity Bramson
Badessa - Jemma Mitchell
Mistress of the Novices - Deborah Holborn
Zelatrice/Nursing Sister - Katy Huntley
Suor Dolcina/Alms Sister 2/ Lay Sister 2 - Olivia Lewis
Suor Osmina/ Alms Sister 1 - Lucyjayne Bray
Social Media
Facebook - fb.me/operainthemeantime
Twitter - Operameantime
Instagram - operainthemeantime
Date: 03 July 2017
Time: 7:00 p.m. Drinks - 7:30 p.m. Concert
Member Ticket Price: £15 including concert, buffet and wine.
Non-member Ticket Price: £18 including concert, buffet and wine.
Buying Tickets: Payment Information can be found here - View