Musical Moments February 2017
We are happy to announce the latest of our monthly 'Musical Momments'. These concerts take place on the first Monday of every month and are followed by a buffet with wine. This month we welcome Duo Villanesca: Ana Estefania Rodriguez Moran, flute and Peter Joe Bennett, guitar. The 'Musical Moments' concerts have been made possible by the very kind cooperation of The Trinity Laban Conservatoire of Music and Dance. We are very privileged in being able to present these young, highly talented musicians who are already making their mark in the music world.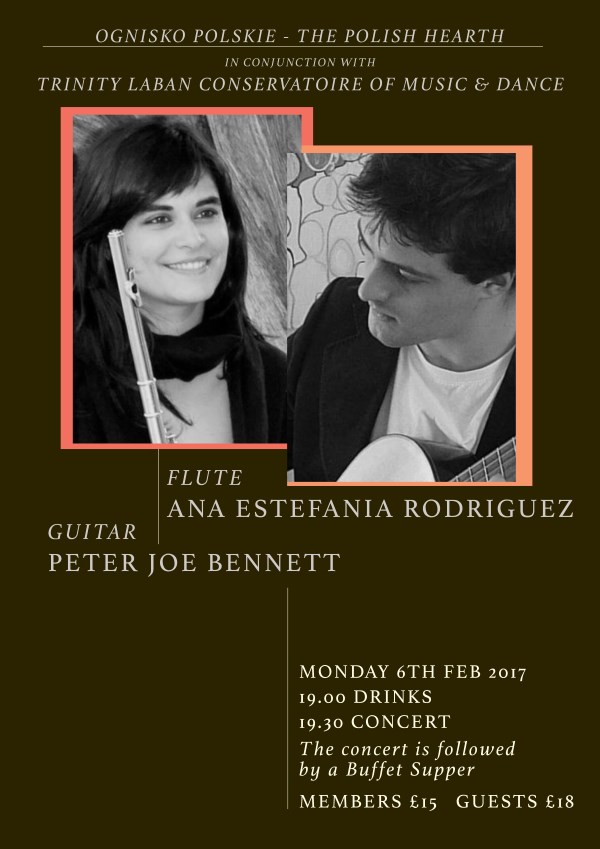 Duo Villanesca
Duo Villanesca are a young vibrant flute and guitar duo comprising Spanish flautist Ana Estefania Rodriguez and English guitarist Peter Joe Bennett. Formed whilst students at Trinity Laban Conservatoire of Music and Dance in 2015 with the aim of performing Toru Takemitsu's masterwork Toward the Sea, they have since found much joy in discovering and exploring the flute and guitar repertoire together. Their concerts are a chance to express this, sharing with audiences some fantastic repertoire combining intimacy with a sense of spontaneous risk taking.
An ability to perform technically demanding scores such as those by Takemitsu, Salvador Brotons and Tedesco, is balanced by their enjoyment in playing arrangements of popular classical pieces alongside choros from Brazil. Performances in London, Devon and Madrid over the past six months have been well received, and many more concerts will follow this year in and around London. Future plans include a recording, performing functions, and expanding their repertoire with a particular focus on original music of the 20th century. Commissions and collaborations with other artists and musicians is another goal of the duo, who hold to the idea that the highest art is achieved through sharing and communicating,  with colleagues and audiences alike.
Programme
Mauro Giuliani(1781 – 1829) Gran Duetto Concertante Op 52  
Mario Castelnuovo-Tedesco (1895-1968) Sonatina Op 205   
Joaquín Rodrigo (1901-1999) Serenata al alba del día  
Salvador Brotons (1959-) Tre divertimenti Op 68
Date: 06 February 2017
Time: 7:00 p.m. for 7:30 p.m.
Member Ticket Price: £15 including concert, buffet and wine.
Non-member Ticket Price: £18 including concert, buffet and wine.
Buying Tickets: Payment Information can be found here - View