Musical Moments February 2016
We are happy to announce the latest of our monthly 'Musical Momments'. These concerts take place on the first Monday of every month and are followed by a buffet with wine. This month Catherine Lee will be playing Cello and Joseph Warwick will be playing classical guitar. The 'Musical Moments' concerts have been made possible by the very kind cooperation of The Trinity Laban Conservatoire of Music and Dance. We are very privileged in being able to present these young, highly talented musicians who are already making their mark in the music world.
Programme
Manuel de Falla (1876-1946) Seven Popular Spanish Songs  
Isaac Albéniz (1860-1909) Granada from Suite Espagnole, Op 47
Manuel de Falla (1876-1946) Spanish Dance No 1 from La Vida Breve
Enrique Granados (1867-1916) Andaluza from Spanish Dances, Op 37
Radamés Gnattali (1906-1988) Sonata for Cello and Guitar
Catherine Lee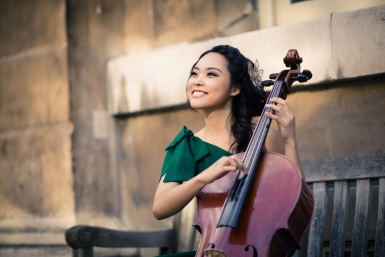 Catherine Lee has performed in venues including the Wigmore Hall, St James's Piccadilly and the South Bank Centre. She regularly participates and performs in international music festivals and academies in Europe and Asia. She received numerous awards for study from organisations such as the Moncalieri Competition, Concordia Foundation, Young International Janigro Competition, Richard Wagner Foundation, Menuhin Stiftung and Hanggi Foundation.
Her performing style has been crafted by studying with cellists including Richard Markson, Gustav Rivinius, Ivan Monighetti and Leonid Gorokhov. Further artistic development came from masterclasses with David Geringas, Thomas Demenga, Ralph Kirshbaum, Frans Helmerson and Trols Svane.
Catherine spent her childhood in Saudi Arabia, New Zealand and UK where she attended the Purcell School. She studied at the Basel Music Academy and the University of Music Stuttgart, graduating with the highest honours for both Bachelor and Master's degrees. Catherine received grants from the Trinity Laban Conservatoire of Music and Dance and the Zetland Foundation to support her current Artist Diploma studies. www.catherinemusic.com
Joseph Warwick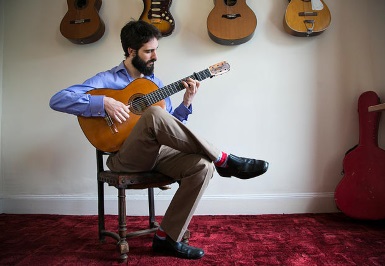 Joseph Warwick began playing classical guitar aged seven and gained a scholarship to the Junior Guildhall School of Music and Drama, where he studied classical guitar before expanding to flamenco and all styles of acoustic and electric guitar. Early on in his playing career he came first at the Beckenham Guitar Festival, and at the age of ten composed a theme for Beauty and the Beast which was performed at the Fairfield Halls.
Joseph teamed up with singer Patti Plinko in 2007 to embark on a UK tour supporting the Puppini Sisters which ended with a show at Shepherd's Bush Empire. From there the band went on to play at some of the UK's most prestigious venues; Queen Elizabeth Hall, Theatre Royal Ustinov, Royal Albert Hall Elgar Room, Institute of Contemporary Arts, British Film Institute, National Theatre, Battersea Arts Center (performing at the after-parties of Punchdrunk's Masque of the Red Death), Assembly Rooms at Edinburgh Fringe, Dublin Fringe Spiegel Tent, London Koko, Latitude and Bestival. The band were commissioned by Bird's Eye View Festival and the British Film Institute to compose and perform a live soundtrack to the original silent film of Chicago to critical acclaim.
Joseph now enjoys a rich and varied musical career performing, recording, teaching, writing and collaborating with some of London's finest musicians. He currently studies at the Trinity Laban Conservatoire of Music and Dance and won the Alison Stephens Plucked Strings Competition in 2014. www.josephwarwick.co.uk
Date: 01 February 2016
Time: 7:00 p.m. for 7:30 p.m.
Member Ticket Price: £15 including concert, buffet and wine.
Non-member Ticket Price: £18 including concert, buffet and wine.
Buying Tickets: Payment Information can be found here - View