Musical Moments December 2017
We are happy to announce the latest of our monthly 'Musical Momments'. These concerts take place on the first Monday of every month and are followed by a buffet with wine. This month we welcome Jordanian-Palestinian pianist Iyad Sughayer. The 'Musical Moments' concerts have been made possible by the very kind cooperation of The Trinity Laban Conservatoire of Music and Dance. We are very privileged in being able to present these young, highly talented musicians who are already making their mark in the music world.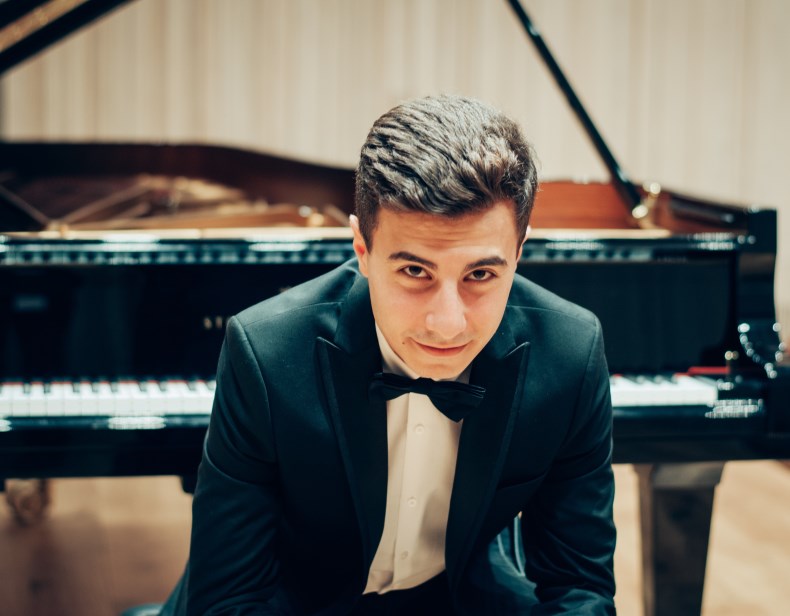 Jordanian-Palestinian pianist Iyad Sughayer has performed numerous recitals and concertos across the United Kingdom, Europe and the Middle East. He has been a soloist with many orchestras including the European Chamber Orchestra, Manchester Camerata, the Royal Northern College of Music Symphony Orchestra, Chetham's Symphony Orchestra, the Prague Youth Orchestra and the Cairo and Amman Symphony Orchestras.
Born in Amman in 1993, Iyad received his first lessons at the age of five from the pianist, conductor and composer Mohammad Sidiq at Jordan's National Music Conservatory. He made his concerto debut at the age of eight with the National Music Conservatory Orchestra.
In 2008, he continued his piano studies at Chetham's School of Music in Manchester. Iyad has since been the recipient of many prizes and awards including the Dennis Midwood Keyboard Prize and first prize in the Chetham's Concerto Competition. In 2012, Iyad was awarded a full scholarship to study with the distinguished Scottish pianist Dr Murray McLachlan at the Royal Northern College of Music in Manchester. During his time at the RNCM, Iyad was the winner of both the RNCM Concerto Competition and the EPTA Piano Competition and received the Peter Frankl Piano Prize. Having been awarded a full scholarship at the Trinity Laban Conservatoire of Music and Dance in London, Iyad is currently completing his Masters degree studying with the acclaimed pianists Martino Tirimo and Peter Tuite. He is the recipient of the Derek Butler Award.
Iyad's wide repertoire includes works by Mozart, Haydn, Beethoven, Liszt, Schubert, Medtner, Schumann, Chopin, Ravel, Debussy as well as some unfairly neglected composers such as Khachaturian, Bechara El-Khoury and John McLeod. His most recent performances have taken place in notable concert halls such as the Bridgewater Hall and Manchester Cathedral, Laeiszhalle and Steinway-Haus in Hamburg, the Bath Pump Rooms together with London venues including the Wigmore Hall, Reform Club, Steinway Hall, St Martin-in-the-Fields and St James's Piccadilly.
Future engagements include recitals in Europe and the Middle East, the launch of Iyad's debut disc featuring works by Mozart, Liszt and Khachaturian, concerto performances with the Cairo Symphony Orchestra and the Jordanian National Orchestra in their 2018 season.
Date: 04 December 2017
Time: 7:00 p.m. Drinks - 7:30 p.m. Concert
Member Ticket Price: £15 including concert, buffet and wine.
Non-member Ticket Price: £18 including concert, buffet and wine.
Buying Tickets: Payment Information can be found here - View