Musical Moments April 2017
We are happy to announce the latest of our monthly 'Musical Momments'. These concerts take place on the first Monday of every month and are followed by a buffet with wine. This month we welcome Aimee Presswood, soprano and Neus Peris, piano. The 'Musical Moments' concerts have been made possible by the very kind cooperation of The Trinity Laban Conservatoire of Music and Dance. We are very privileged in being able to present these young, highly talented musicians who are already making their mark in the music world.
Programme
Robert Schumann (1810 – 1856)
From Lieder und Gesange, Vol III, Op 77 / Aufträge / Mein Garten / Geisternähe
Arnold Schoenberg (1874 – 1951)
From 4 Lieder, Op.2 / Erwartung / Erhebung
Alma Mahler (1879 – 1964)
Laue Sommernacht / Die Stille Stadt
Rebecca Clarke (1886 – 1979)
The Seal Man
Jonathan Dove (1959 - )
Five Am'rous Sighs / Between Your Sheets / Finish! / My thoughts still hovering / All these dismal looks / Venus
William Walton (1902 – 1983)
Daphne / A Song for the Lord Mayor's Table
Aimee Presswood
Aimee Presswood grew up in Hong Kong and South Africa before returning to her home country, England, to study. She is currently completing her Masters degree in singing at Trinity Laban Conservatoire in London with Sophie Grimmer, and previously studied music at the University of Manchester. She enjoys performing a range of Lieder, opera and oratorio, and recently won the English Song Competition with Neus Peris, and the Roy Pleasance Competition, at Trinity Laban. Upcoming performances include Vivaldi's In furore iustissimae irae with the Exeter Bach Society, Dvorak's Stabat Mater with Lytham St Ann's Choral Society and Virtù in the Trinity Laban production of Monteverdi's L'incoronazione di Poppea. Aimee enjoys teaching and has a busy private studio, and teaches for Wandsworth Music Service, the National Youth Choirs of Great Britain and Ulster Youth Choir.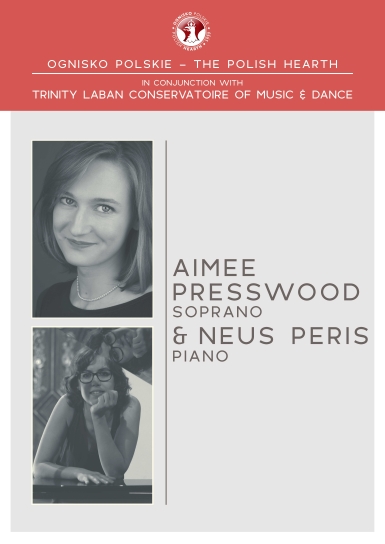 Neus Peris
Neus Peris is a Catalan pianist, currently studying for a masters' degree at Trinity Laban Conservatoire of Music and Dance with Douglas Finch. Her past education took place in Barcelona, with pianist Albert Attenelle.
Neus has performed in many venues in Spain and also in Denmark and France, and regularly takes part in international festivals and masterclass, where she had worked with great and inspiring musicians such as Pascal Rogé, Hortense Cartier-Bresson, David Kujken, and Lylia Zilberstein, among others.
Her repertoire is based in twentieth-Century music, with which she has a special affinity. Last July she was awarded the Yamaha Scholarship given by the Barcelona Piano Academy 2015.
Date: 03 April 2017
Time: 7:00 p.m. Drinks - 7:30 p.m. Concert
Member Ticket Price: £15 including concert, buffet and wine.
Non-member Ticket Price: £18 including concert, buffet and wine.
Buying Tickets: Payment Information can be found here - View