Monthly Members' Evening 9
We are happy to announce the latest of our monthly Members' Evenings. These Members' Evenings are a regular fixture in the Club calendar. They take place on the first Monday of every month and incorporate an interesting event, followed by a buffet with wine. Members will be able to get together in a relaxed atmosphere. At the moment we are very fortunate in being able to offer the 'Musical Moments' series of concerts to start those evenings. The 'Musical Moments' concerts have been made possible by the very kind cooperation of The Trinity Laban Conservatoire of Music and Dance. We are very privileged in being able to present these young, highly talented musicians who are already making their mark in the music world. This month the Palačinka trio will be playing clarinet, cello and guitar.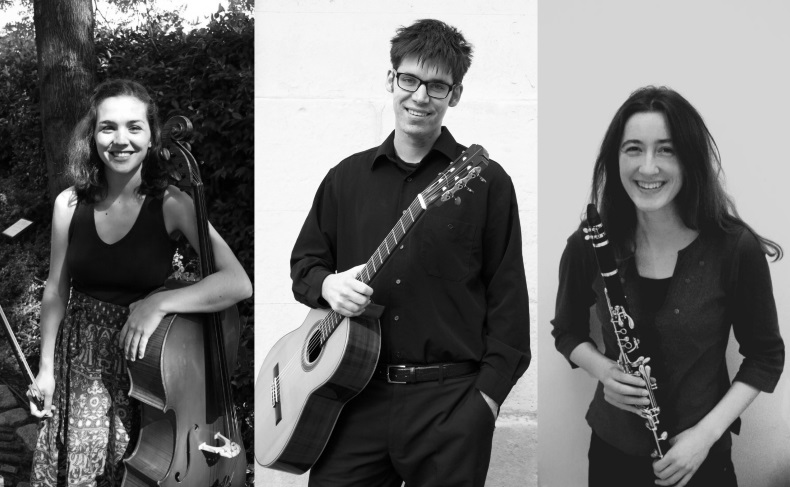 PALAČINKA TRIO
The Palačinka trio is an unusual instrumental ensemble comprised of Eve Wieltschnig, clarinet, Angela Lobato, cello and Stefan Melovski, guitar. The idea for both the formation and group name came about during a pancake (palačinka) party that included all the members. Due to lack of standard repertoire for such an ensemble, the material has been thus far been arranged or transcribed by Stefan.
Choosing to interpret well-known repertoire from other classical genres as well as popular material from other cultures, including folk and jazz, the group seeks to have fun playing music they wouldn't otherwise have the opportunity to perform on their instruments.
PROGRAMME
Part 1 - The Romantic Era
Antonin Dvořák (1841 – 1904) Humoresque No 7, Op 101
Frédéric Chopin (1810 – 1849) Nocturne No 20 in C-sharp minor, Op posth.
Pyotr Ilyich Tchaikovsky (1840 – 1943) 'Allegro Con Gracia' from Symphony Pathetique, Op 74
Part 2 - Interpreting the Classics
François De Fossa (1775 – 1849) Guitar Trio No 1 in A major, Op 18 Largo cantabile Rondo: Allegretto
Part 3 - Exploring the Balkans
Stefan Melovski (1992 - ) Balkan Suite Zajdi, Zajdi Jutros mi je ruža procvjetala Čupurlika
Date: 06 October 2014
Time: 7:00 p.m. for 7:30 p.m.
Member Ticket Price: £15 including concert, buffet and wine.
Non-member Ticket Price: £18 including concert, buffet and wine.
Buying Tickets: Payment Information can be found here - View