Monthly Members' Evening 8
We are happy to announce the eigth of our monthly Members' Evenings. We plan to make these Members' Evenings a regular fixture in the Club calendar. They will take place on the first Monday of every month and will incorporate an interesting event, followed by a buffet with wine. Members will be able to get together in a relaxed atmosphere. At the moment we are very fortunate in being able to offer the 'Musical Moments' series of concerts to start those evenings. The 'Musical Moments' concerts have been made possible by the very kind cooperation of The Trinity Laban Conservatoire of Music and Dance. We are very privileged in being able to present these young, highly talented musicians who are already making their mark in the music world. This month Edgar Cardoso will be playing solo piano.
Edgar Cardoso
Pianist Edgar Cardoso is an Artist Diploma student with Deniz Gelenbe at Trinity Laban Conservatoire of Music and Dance in London, where he finished his masters degree. Edgar is a Gladys Bratton Scholar and Joan Greenfield Fellowship Trust Scholar for 2013/2014 and a Tillett Trust Scholar and Colin Keer Trust Scholar for 2014/2015.
The 22-year-old Portuguese pianist began studying with Álvaro Teixeira Lopes. His BMus Degree was begun at the Universidade de Aveiro and he finished with top marks at the Musikhochschule Stuttgart, Germany, with Friedemann Rieger and Andrzej Ratusinski. Edgar has won over 30 national and international prizes in piano competitions in Portugal, Spain, France, Lithuania, Malta, Morocco, Tunisia, USA and Russia. He has played as soloist with the Gnesins Symphonic Orchestra (Russia) and Norfolk Youth Orchestra (UK), having also scheduled performances with Trinity Wind Orchestra (UK) and Orquestra do Norte (Portugal).
At the moment, Edgar is focused on developing international recognition, having performed so far in Portugal, Spain, France, Italy, Germany, UK, Tunisia, Morocco, Malta, Lithuania, Latvia, Estonia, Russia, USA and South Korea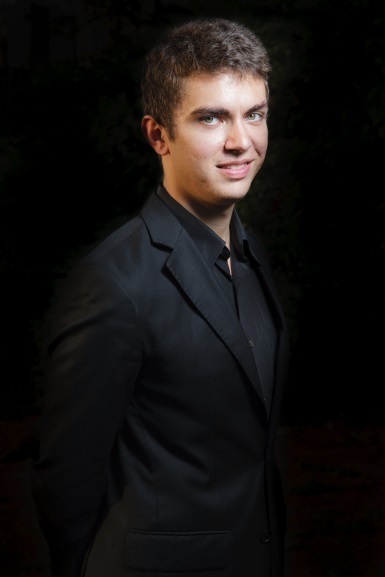 Program: Claude Debussy (1862 – 1918)
Préludes, Book 1
I. Dancers of Delphi: Lent et grave II. Sails: Modéré III. The Wind in the Plain: Animé IV. The sounds and fragrances swirl through the evening air: Modéré V. The Hills of Anacapri: Très modéré VI. Footsteps in the Snow: Triste et lent VII. What the West Wind has seen: Animé et tumultueux VIII. The Girl with the Flaxen Hair: Très calme et doucement expressif IX. Interrupted Serenade: Modérément animé X: The Submerged Cathedral: Profondément calme XI. Puck's Dance: Capricieux et léger XII. Minstrels: Modéré
Claire de lune
L'isle joyeuse, L 106
Date: 01 September 2014
Time: 7:00 p.m. for 7:30 p.m.
Member Ticket Price: £15 including concert, buffet and wine.
Non-member Ticket Price: £18 including concert, buffet and wine.
Buying Tickets: Payment Information can be found here - View