Monthly Members' Evening 4
We are happy to announce the fourth of our monthly Members' Evenings. We plan to make these Members' Evenings a regular fixture in the Club calendar. They will take place on the first Monday of every month and will incorporate an interesting event, followed by a buffet with wine. Members will be able to get together in a relaxed atmosphere. At the moment we are very fortunate in being able to offer the 'Musical Moments' series of concerts to start those evenings. The 'Musical Moments' concerts have been made possible by the very kind cooperation of The Trinity Laban Conservatoire of Music and Dance. We are very privileged in being able to present these young, highly talented musicians who are already making their mark in the music world. This month Lin Lin will be playing flute and Gen Li will be playing piano.
LIN LIN
Flautist and pianist, Lin Lin studied with Susan Milan, Sue Thomas, and Nigel Clayton at the Royal College of Music. Having completed her Bachelor's Degree in Music in 2013, she now continues her Master's in Music flute study with Anna Noakes at Trinity Laban Conservatoire of Music and Dance as a TCL Scholar and Gladys Bratton Scholar, while continuing her piano study with Nigel Clayton for a Fellowship Music Diploma.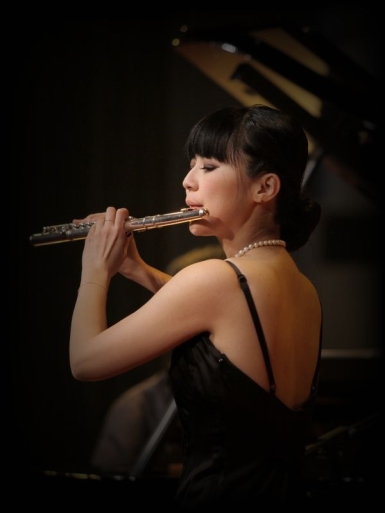 Lin began learning piano at age 4, and flute at age 7. She won the first prize of the Beijing Young Musicians Piano Competition when she was 13, and first prize at the Beijing Young Musician International Flute Competition in 2001. Lin won the 2nd Prize and 'Excellent Reward' at the Chinese Flute Competition in Beijing in 2003. She has been principle flute of the Beijing Youth Symphony Orchestra for 8 years, and has been given many concerts on both instruments, both solo and with orchestra, all around China, Europe, and Australia.
Lin was the principle flautist with the RCM's Sinfoniettas and Orchestras for many concerts, and has played solo and chamber recitals throughout UK and Asia since 2010. She has been described as "truly gifted young musician who mastered two instruments, always bringing magical music to the audience..." by Musington Magazine in 2012. Lin has been interviewed by media in China and UK, and her music life story has been made into a film by the Ultimate Luxury Film Producing Studio in October 2013.
GEN LI
Gen Li began studying piano at the early age of three. He has won the 2nd Chinese Young Musician Competition at age 13, and was awarded Silver Prize in the Young Asian Musician Competition in 2005. He gave 16 solo recitals throughout China between 2003 and 2006 with programmes ranging from baroque to 20th Century repertoire. In 2007 Gen was invited to study at the Purcell School of Music with a full scholarship, to start his musical studies in England. He has subsequently studied at the Royal College of Music and is currently working towards a Master's Degree at Trinity Laban Conservatoire of Music and Dance.
Gen has given recitals in Wigmore Hall, Steinway Hall, Purcell Room and many other places all over the UK since 2008. In 2009 Gen played Saint-Saëns' Piano Concerto No 2 with the Barnet Symphony Orchestra in London. He played Warsaw Concerto with the Young Musician Symphony Orchestra in John Smith's Square, and won the 1st Prize at the Greece International Piano Festival Competition in 2011.
Program
Nocturne et Allegro Scherzando          Gaubert
Grand Polonaise in D Major, Op 16     Boehm
Flute Sonata in D, Op. 94                       Prokofiev
Scherzo Divertimento                             Martinu
Date: 03 March 2014
Time: 7:00 p.m. for 7:30 p.m.
Member Ticket Price: £12 including concert, buffet and wine.
Non-member Ticket Price: £15 including concert, buffet and wine.
Buying Tickets: Payment Information can be found here - View