Monthly Members' Evening 2
We are happy to announce the second of our monthly Members' Evenings. We plan to make these Members' Evenings a regular fixture in the Club calendar. They will take place on the first Monday of every month and will incorporate an interesting event, followed by a buffet with wine. Members will be able to get together in a relaxed atmosphere. At the moment we are very fortunate in being able to offer the 'Musical Moments' series of concerts to start those evenings. The 'Musical Moments' concerts have been made possible by the very kind cooperation of The Trinity Laban Conservatoire of Music and Dance. We are very privileged in being able to present these young, highly talented musicians who are already making their mark in the music world. This month Mili Leitner will be playing violin and Rosie Whiting will be playing piano.
Mili Leitner
Mili is a final year undergraduate scholar studying with Pieter Schoeman at Trinity Laban Conservatoire in London. She has performed in Israel, Cyprus, China, Turkey, Trinidad, France, Italy, Spain, Guernsey and the UK, with recent international competition successes including fourth prize in 'Premio Citta di Pavoda' 2012 and selection as the only European finalist in 'Giovani Musicisti' 2013.
She has received tuition and masterclasses from eminent musicians including Ben Zander, Rivka Golani, Andrew Haveron, Ofer Falk, Boris Brovstyn, Rodney Friend and Peter Cropper, and was selected to participate in the Jerusalem Academy of Music International Summer Institute for Strings and Cyprus International Summer Academy. A keen advocate of contemporary classical music, Mili dedicates much of her time to performing new works in a solo capacity, this year including pieces by Benjamin Ellin and Mark Grey.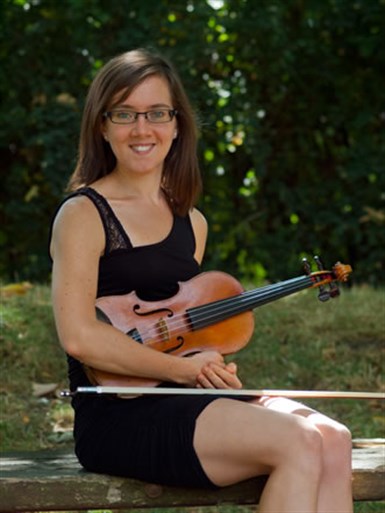 Her orchestral experience includes leading the London Young Soloists Ensemble as well as principal positions in the International Youth Symphony Orchestra, Focus Opera and National Schools' Symphony Orchestra. Mili won principal positions in all of Trinity Laban's orchestras by the beginning of her third year, with highlights including leading Trinity Laban's String Ensemble in performances of contemporary chamber works at the 2012 'Out of the Cage' Festival. Additionally, she co-led the orchestra of the first professional opera production in Trinidad & Tobago.
Mili is grateful for her scholarship support and sponsors, including EMI and HSBC. She plays a 1719 Camilli violin which she is generously loaned by the Benslow Trust. She intends to pursue a PhD in ethnomusicology next year.
Rosie Whiting
Rosie graduated from the class of Douglas Finch at Trinity Laban Conservatoire in 2013. She regularly performs solo recitals across in London and abroad. Rosie has also received coaching from prominent musicians such as William Aide, Peter Nagy and Dimitri Alexeev. Rosie started to learn piano aged eight after hearing her sister taking piano lessons. At age sixteen she was offered a full scholarship to study at the Purcell School of Music with Carole Presland where she explored early music and chamber ensemble work alongside her solo studies. In the summer of 2010 she was selected by the WAM Foundation to travel to Bangalore, India, where she taught piano in music schools and performed in recitals.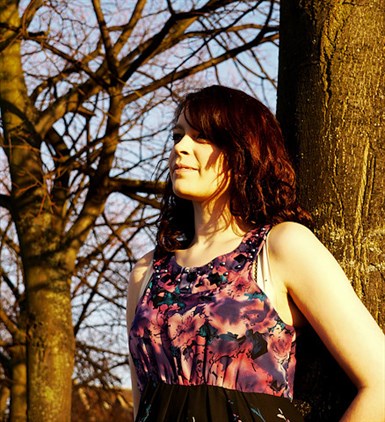 Rosie is passionate about contemporary music and regularly works alongside composers such as Tansy Davies and Errollyn Wallen. She performed Tansy Davies work Loopholes and Lynchpins last year at Spitalfields Festival. Recently she premiered a new work by a Trinity Laban student at the Southbank Centre. Rosie also had success this year in the John Halford competition for contemporary piano music winning first prize.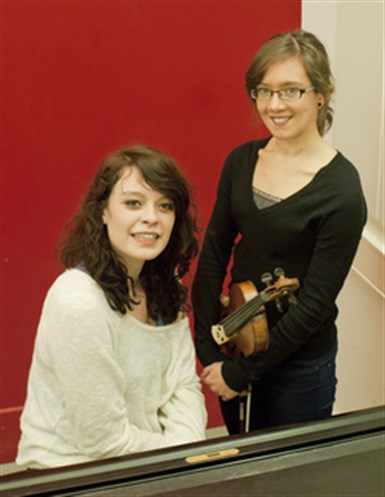 Program
Mozart: Sonata K. 301 in G
Schnittke: Sonata No. 3
Wieniawski: Caprice No. 2 in E flat
Takemitsu: Distance du Feé
Brahms: Sonatensatz from F. A. E. Sonata
Date: 02 December 2013
Time: 7:00 p.m. for 7:30 p.m.
Member Ticket Price: £12 including concert, buffet and wine.
Non-member Ticket Price: £15 including concert, buffet and wine.
Buying Tickets: Payment Information can be found here - View