Monthly Members' Evening 15
We are happy to announce the latest of our monthly Members' Evenings. These Members' Evenings are a regular fixture in the Club calendar. They take place on the first Monday of every month and incorporate an interesting event, followed by a buffet with wine. Members will be able to get together in a relaxed atmosphere. At the moment we are very fortunate in being able to offer the 'Musical Moments' series of concerts to start those evenings. The 'Musical Moments' concerts have been made possible by the very kind cooperation of The Trinity Laban Conservatoire of Music and Dance. We are very privileged in being able to present these young, highly talented musicians who are already making their mark in the music world. This month Corinna Hentschel will be playing violin and Giulio Poggia will be playing piano.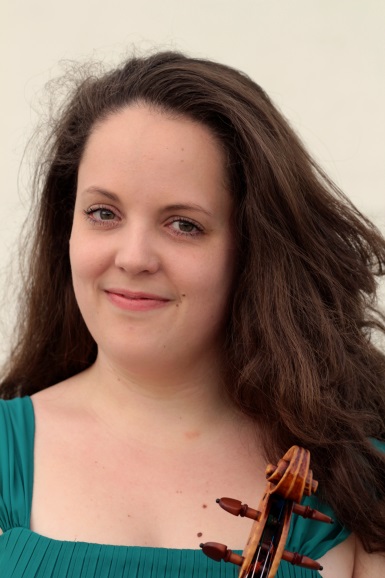 Biography Corinna Henschel
In 2013, Corinna Henschel graduated with a Performance Diploma from the Rostock College of Music and Dance in Germany, and began her MMus Chamber Music studies with Holger Wangerin at the same school. During her performance studies she also studied pedagogy towards achieving a Teaching Diploma. Corinna has been granted an Erasmus Scholarship for 2014-15 for MMus performance studies with Ofer Falk at Trinity Laban Conservatoire of Music and Dance in London.
Corinna has performed in Germany, Europe and USA as a soloist, chamber musician and as a member of different orchestras. She won the Hans Kauffmann Foundation special price for chamber music with a trio, in the Ostracised Music Competition in 2010. She is also a scholarship holder of the Yehudi Menuhin Live Music Now e.V Foundation.
Corinna's love of chamber and contemporary music led her to form the Hentschel Duo with her percussionist sister, Simone. Together, they have performed at festivals in Germany, Netherlands and Slovenia.
Biography Giulio Poggia

Italian pianist Giulio Poggia graduated from the Conservatorio Arrigo Pedrollo di Vicenza at the age of 19 after seven years of study. Described as talented and promising by his teachers, he developed quickly and studied with many distinguished musicians including Renato Maioli, Stefania Redaelli, Riccardo Zadra, Federica Righini, Christiane Montandon, Wolfram Schmitt-Leonardy, Martino Tirimo and Douglas Finch. During his studies he performed across Italy including at the Auditorium Nuovo Montemezzi di Verona, Sala Consiliare di Pordenone, Sala Concerti Marcella Pobbe di Vicenza and in Belluno, Thiene and Sacile.
Giulio is a postgraduate student at Trinity Laban Conservatoire of Music & Dance, supported by a Scholarship awarded by the conservatoire. In London Giulio has performed with the Trinity Laban Wind Orchestra at Blackheath Halls and a solo recital with an all water-related programme at the National Maritime Museum for the Turner and The Sea Exhibition.
Programme
W A Mozart (1756 – 1791)
6 Variations on 'Hélas, j'ai perdu mon amant" K 360
Erich Wolfgang Korngold (1897 – 1957)
4 pieces from Much Ado About Nothing
Cesar Franck (1822 – 1890)
Sonata in A major for Violin and Piano
Date: 01 June 2015
Time: 7:00 p.m. for 7:30 p.m.
Member Ticket Price: £15 including concert, buffet and wine.
Non-member Ticket Price: £18 including concert, buffet and wine.
Buying Tickets: Payment Information can be found here - View