Monthly Members' Evening 13
We are happy to announce the latest of our monthly Members' Evenings. These Members' Evenings are a regular fixture in the Club calendar. They take place on the first Monday of every month and incorporate an interesting event, followed by a buffet with wine. Members will be able to get together in a relaxed atmosphere. At the moment we are very fortunate in being able to offer the 'Musical Moments' series of concerts to start those evenings. The 'Musical Moments' concerts have been made possible by the very kind cooperation of The Trinity Laban Conservatoire of Music and Dance. We are very privileged in being able to present these young, highly talented musicians who are already making their mark in the music world. This month the Trinity Laban Doubling Quartet will be playing woodwind.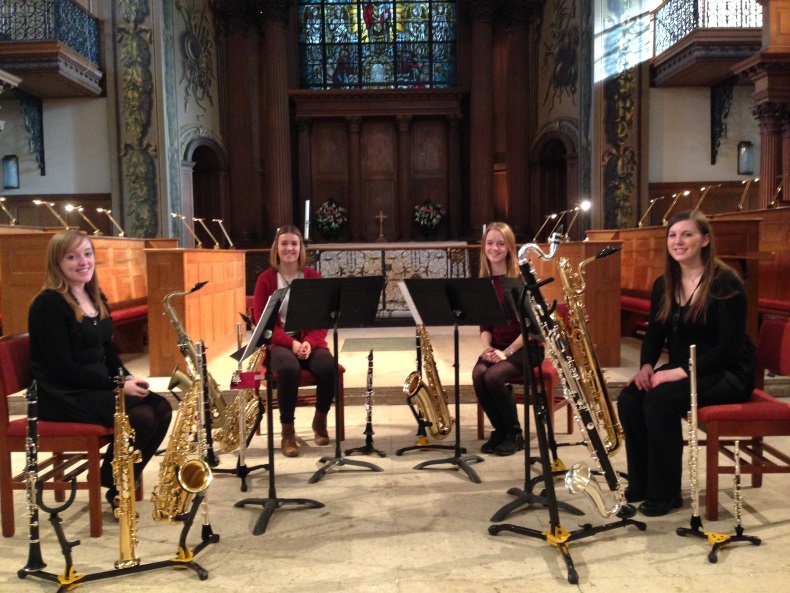 Biography
The doubling quartet (Ruth Hayes, Ruth Whybrow, Jess Tomlinson, Rhiannon Jeffreys) were formed in 2014 at Trinity Laban Conservatoire of Music and Dance. They all study saxophone, clarinet and flute at the Conservatoire and were inspired by professor Melanie Henry to form a unique group. All players perform on more than one instrument throughout the pieces they play, to show versatility and a variety of musical colours. Their first performance was at St Alfege Church in Greenwich in 2014, for a concert which was to celebrate Adolph Sax's 200th Anniversary, who was the inventor of the saxophone. They have also performed at the prestigious Bishopsgate Institute, Liverpool Street. Their aim is to bring something new to the chamber music world, and to display their skills as multi-instrumentalists.
Programme
Wandering Mind - Teryn Carter
Permutations - Paul Harvey
An American in Paris - Gershwin, arr Nigel Wood
Ulla in Africa - H. Wilberny
Basin St Blues - S Williams, arr Mark Bassey
Don't Get Around Much Anymore - Ellington and Russell, arr Mark Bassey
Music from the Threepenny Opera - Kurt Weill
Date: 02 March 2015
Time: 7:00 p.m. for 7:30 p.m.
Member Ticket Price: £15 including concert, buffet and wine.
Non-member Ticket Price: £18 including concert, buffet and wine.
Buying Tickets: Payment Information can be found here - View