Monthly Members' Evening 12
We are happy to announce the latest of our monthly Members' Evenings. These Members' Evenings are a regular fixture in the Club calendar. They take place on the first Monday of every month and incorporate an interesting event, followed by a buffet with wine. Members will be able to get together in a relaxed atmosphere. At the moment we are very fortunate in being able to offer the 'Musical Moments' series of concerts to start those evenings. The 'Musical Moments' concerts have been made possible by the very kind cooperation of The Trinity Laban Conservatoire of Music and Dance. We are very privileged in being able to present these young, highly talented musicians who are already making their mark in the music world. This month Glenda Allaway will be playing harp.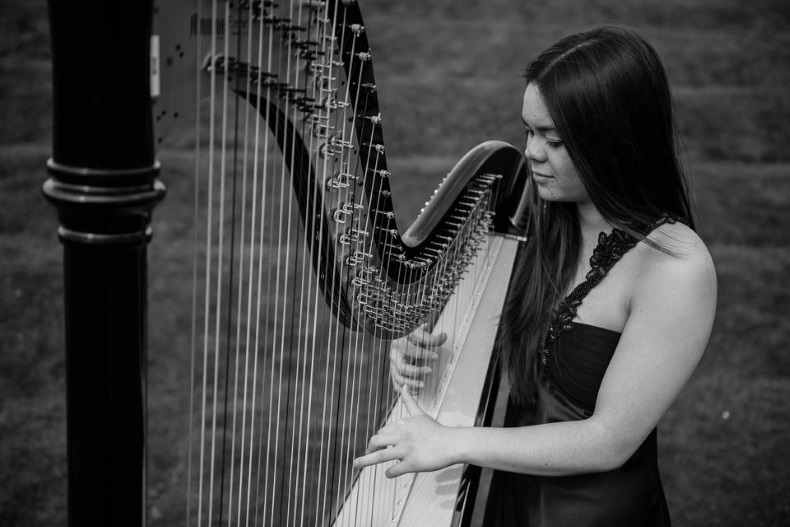 Glenda Allaway
Hailing from the Welsh borders, Glenda Allaway began playing the harp aged ten, before gaining entrance to Chetham's School of Music where she studied under the instruction of Gabriella Dall'Olio. She is continuing her studies with Gabriella at Trinity Laban Conservatoire of Music and Dance as the Gladys Bratton Scholar. As well as performing as a soloist, Glenda has been a part of a several ensembles, most recently the Albon-Allaway Duo, and is currently principal harp of the CBSO Youth Orchestra.
An avid lover of new musical challenges, she has been exploring jazz, indie folk and electric harp sounds, amongst others, and trying to challenge the preconceptions of the harp. As her career takes off, Glenda is raising funds to purchase a professional concert harp. Aside from her musical endeavours, she loves running and both cooking and eating good food.
Programme
Ekaterina Walter-Kune (1870 - 1930) Fantasie sur un theme de l'opera Eugene Onegin
CPE Bach (1714 - 1788) Andante un poco from Sonata in G major, Wq 139
Paul Hindemith (1895 - 1963) Sonata for Harp
Marcel Grandjany (1891 - 1975) Fantaisie sur un theme de Haydn
Cesar Secundino (1985 - ) No Hay Milpa Sin Cuitlacoche
Date: 02 February 2015
Time: 7:00 p.m. for 7:30 p.m.
Member Ticket Price: £15 including concert, buffet and wine.
Non-member Ticket Price: £18 including concert, buffet and wine.
Buying Tickets: Payment Information can be found here - View