Monthly Members' Evening 1
We are happy to announce the first of our monthly Members' Evenings. We plan to make these Members' Evenings a regular fixture in the Club calendar. They will take place on the first Monday of every month and will incorporate an interesting event, followed by a buffet with wine. Members will be able to get together in a relaxed atmosphere. At the moment we are very fortunate in being able to offer the 'Musical Moments' series of concerts to start those evenings. The 'Musical Moments' concerts have been made possible by the very kind cooperation of The Trinity Laban Conservatoire of Music and Dance. We are very privileged in being able to present these young, highly talented musicians who are already making their mark in the music world. This month will feature Jenna Sung, who will be playing solo piano.
Jenna Y Sung started playing piano at the age of three. She proved her talent at a young age by receiving an invitation to play at Carnegie Hall and making her debut with orchestra at age ten. Starting from the age of nine Jenna was the winner of numerous piano competitions and her career has led her to many cities around the world.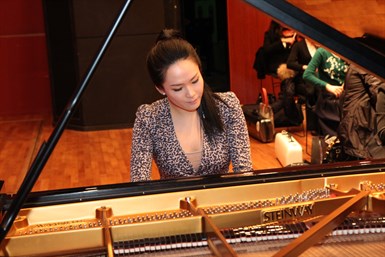 Most recently Jenna was invited to perform the Mozart Piano Concerto K. 271 "Jeunehomme" with the Chang-Won Phiharmonic Orchestra conducted by the most renowned conductor in South Korea, Chi Yong Jung. The performance has been broadcast on FEBC radio together with an interview. Jenna was also invited to the Krefeld music festival in Germany organized by the Kawai European headquarters and to the Benasque Music Festival in Spain. She also has numerous concert engagements in London and Jenna will soon be on a concert tour in Spain.
Jenna received many prizes at international piano competitions: RCM Concerto Competition London, International Piano Competition Ciudad de Huesca in Spain, "Stefano Marizza" in Italy, Maria Canals in Spain, "Carl Filtsch" in Romania, "Premio Iturbi" Valencia in Spain and others. Having performed at the Queen Elizabeth International Piano Competition in Brussels, she has been identified as "The talent of tomorrow" by Gramophone.
She performed with orchestras such as Poland Kielce Symphony Orchestra, Bulgaria Sophia State Philharmonic Orchestra, Chang-Won Philharmonic Orchestra, UMFC Orchestra Poland and Masan Philharmonic Orchestra.
She had a successful debut concert in the Berlin Philharmonic in 2008 and played concerts at various venues in Spain, Poland, Germany, South Korea, Italy, Romania and the UK. As part of the celebrations of Chopin's birth in Poland, Jenna performed at the Chopin recital series "Fryderyk Chopin – Dzieła Wszystkie", organized by UMFC with honorary sponsorship from the President of the Republic of Poland. She also performed at the opening of the newly renovated "Neuer Marstall" which forms part of the Imperial Palace in Berlin. Jenna was a pianist in the LMN Yehudi Menuhin association in Germany and in the Trio Con Anima piano trio.
Jenna studied piano at Seoul Arts Middle School and Seoul Arts High School, which is renowned as the best music school in Korea and where many prize-winners from major international competitions attended. She then studied in Germany at the Hochschule für Musik "Hanns Eisler" Berlin with Prof Gabriele Kupfernagel, Prof Friedemann Weigle (Artemis Quartett), Prof. George Sava and Prof. Klaus Sticken.
She completed her studies with a Vordiplom and Diplom in Piano Peformance, Diplom in Chamber Music and in Pedagogy, all with Distinction. Jenna continued her studies at the Fryderyk Chopin University of Music in Warsaw, where she received a Masters degree and the Postgraduate Artistic Training Diploma. She is currently a postgraduate student at the Royal College of Music in London studying piano with Prof Leon McCawley, who is among the most renowned pianists in the UK and winner of the Leeds and Beethoven International Piano Competitions. Throughout her studies she took masterclasses from internationally renowned pianists such as Prof Michel Beroff, Prof Brigitte Engerer, Prof Karl-Heinz Kammerling, Prof Anne Queffelec, Roy Howat, Prof Jozef Stompel and Prof Stefan Litwin.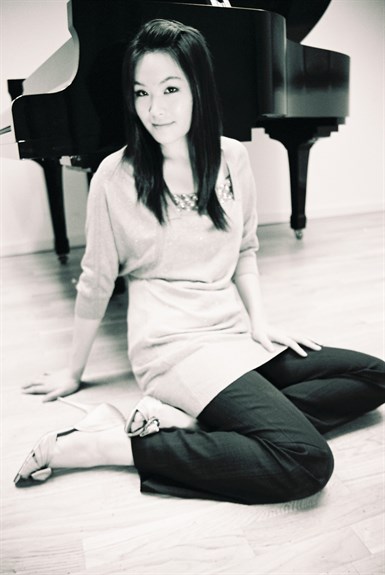 Program
Schubert: Impromptus no.3-4 D.935
Granados: Quejas, ó la maja y el ruiseñor from Goyescas
Ravel: Gaspard de la Nuit
Liszt: Hungarian Rhapsody no.10
Date: 04 November 2013
Time: 7:00 p.m. for 7:30 p.m.
Member Ticket Price: £12 including concert, buffet and wine.
Non-member Ticket Price: £15 including concert, buffet and wine.
Buying Tickets: Payment Information can be found here - View