Midget Submarine Commander
Of all the acts of gallantry in World War II few were as audacious as the attack by midget submarines on the pride of the German fleet, the battleship Tirpitz, lying in her fortified mooring in a Norwegian fjord. Lieutenant Godfrey Place was in command of submarine X7 in September 1943 and travelled over 1000 miles, negotiating minefields and antisubmarine nets to accurately place four tons of high explosive under the hull of the Tirpitz. He was awarded the Victoria Cross in 1944, at the age of 22. Taken prisoner he was repatriated to England at the end of the war, and continued to serve in the Royal Navy for 25 years, flying with 801 squadron in the Korean War, and served on aircraft carriers at Suez, Nigeria and the withdrawal from Aden. On his retirement in 1970 he had the distinction of being the last serving naval officer to hold the Victoria Cross.Using many first-hand accounts, the book details his life, from a childhood spent partly in East Africa to being Chairman of the Victoria Cross and George Cross Association for over 20 years. It draws on previously unpublished material, including his own recollections on the attack on the Tirpitz and his time as a prisoner of war.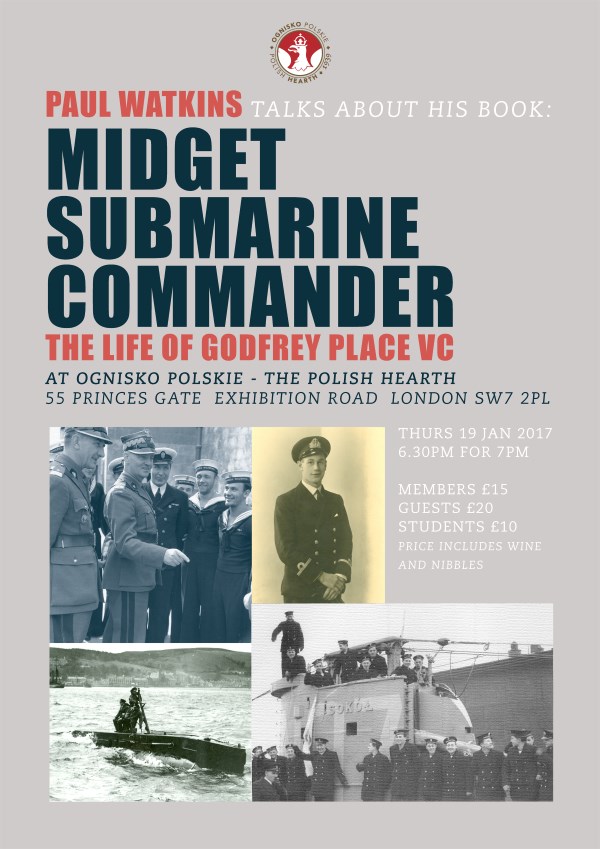 Date: 19 January 2017
Time: 6:30 p.m. for 7:00 p.m.
Member Ticket Price: £15 including wine.
Non-member Ticket Price: £ 20 including wine.
Student Ticket Price: £10 including wine.
Buying Tickets: Payment Information can be found here - View