Maciek Pysz Trio
Maciek Pysz is a guitarist and composer known for his clear lyrical phrasing, his virtuosity and his imaginative cinematic compositions. He has performed with Daniele di Bonaventura, Tim Garland and Francois Arnaud and has appeared in festivals and clubs in the UK, France and Italy. ​ His two albums feature his Trio with Yuri Goloubev and Asaf Sirkis, and Daniele di Bonaventura appears on his second album, A Journey. This album, released on Dot Time Records, received several 4 stars reviews, including one from Ian Mann who wrote "Pysz is a quiet virtuoso who has developed into one of the most distinctive guitarists around". Maciek will be accompanied by Davy Sur on drums/percussion and Yuri Goloubev on double bass.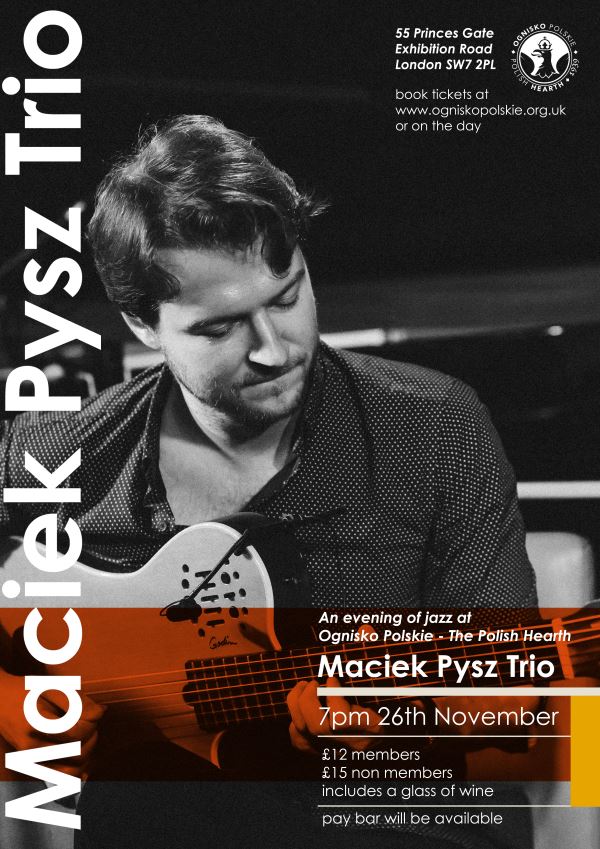 Of his live performances, one critic referred to the "refreshingly clean, quicksilver beauty of Maciek Pysz's guitar". As well as being a leader of his own groups Maciek works with other projects, including two in France. His recent lineups include a drumless quartet and a duo with Ivo Neame. He also plays with the Julian Costello Quartet and as duo with guitarist Gianluca Corona.
Press Quotes
"There is some beautiful stuff here – a must for jazz guitar fans" **** Stephen Graham (Marlbank)
"The crisp balance of sound and space in this recording is flawless...it's great to witness the development of Maciek Pysz's own musical personality" Adrian Pallant (London Jazz News / AP Reviews)
"Pysz is a quiet virtuoso who has developed into one of the most distinctive guitarists around" **** Ian Mann (The Jazz Mann)
"With 'A Journey' Maciek Pysz has produced an album deserving of the highest praise. Highly recommended" Peter McLaren (Jazz in Europe)
"One of the most melodic and innovative guitarists I've heard for many a year...all compositions are as melodic and harmonically satisfying as his solos" Lance Liddle (Bepop Spoken Here)
"This album is truly a great listen as it manages to effortlessly combine mesmerising compositions with the energy and drive of a group of great musicians" Mike Sims (Radio Cardiff's Jazz Breakfast)
"There is no doubt that this is an amazing album, full of musical beauty, aesthetic pleasure and extraordinary musicianship" Adam Baruch (The Soundtrack Of My Life)
"This impressive album is indeed a most pleasurable journey" Matthias Kirsch (Gina Loves Jazz)
"The Polish acoustic/classical guitarist draws from the world of Ralph Towner and Pat Metheny in a fine sounding quartet recording" Jazzwise Magazine (Feb 2016)
"INSIGHT is an album that readily conjures images of warm, sun-kissed landscapes" Bruce Lindsay (All About Jazz)
"4*" Konrad Zywiecki (Jazz Forum, March 2016)
"A Journey represents a significant step forward for Maciek Pysz" **** Matthew Ruddick (Kind Of Jazz)
"A Journey really lives up to its title: it travels both with style and class – as much as music can. 4* " Depo Olukotun (CEEL)
"...you really can feel warmth and delight in the music. That makes it specially rewarding and gives this album a very good vibe indeed" Peter Bacon (The Jazz Breakfast)
"...there's no glossy production but there is real musicianship as in the quality of the guitar solo on 'Moody Leaf'. Even Pat Metheny would be proud of this one" Stephen Graham (Marlbank)
"...the incredible Polish guitar player Maciek Pysz" Mike Chadwick (JazzFM, Soul and Jazz Radio)
Date: 26 November 2016
Time: 7:00 p.m.
Member Ticket Price: £12
Non-member Ticket Price: £15
Buying Tickets: Payment Information can be found here - View