Lecture Series October - Palus Samartica
Who were the Polish Sarmatians and what relevance do they have to Poland today? This is the question that Prof Krzysztof Koehler, director of Poland's Book Institute and the popular TV station, TVP Kultura, ingeniously tries to discover in his new book - and talk at Ognisko Polskie on 30th October. It all comes down to a quest for origins. The Sarmatians were peoples of Iranian ancestry, originally from Central Asia, who migrated to the Ural Mountains between the 6th-4th centuries BC, later settling in present-day southern Russia and the Balkans. During the 15th and 16th centuries there was a European-wide need for finding ancestors from Antiquity. Due to the historic heritage of the Sarmatians, they were recognised as the subsequent heirs to the Polish noblility.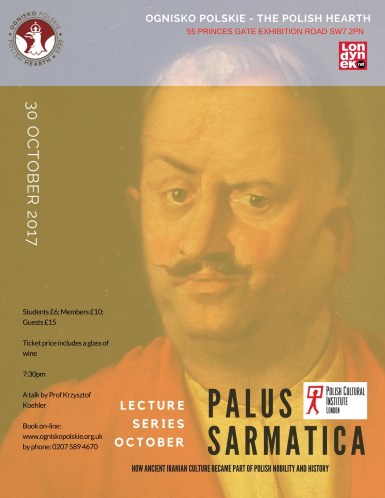 Over the last few years Koehler has explored all aspects of Sarmatian culture. Using odd keywords such as 'apple', 'beer' or 'moustache' Koehler researched everything from their culinary practices, drinking habits and fashions to their religious practices and political motivations. What he found, coupled with a collaboration with the Polish History Museum and country-wide travel to further his knowledge through visiting certain monuments and reading historic texts, was a strong tradition - still echoed in the Polish character of today. Through his reading of the different literatures of that time period he attempts to form a picture of the Sarmatian lifestyles as a whole - often humorously - whilst also noting those aspects of their culture that did not continue and, ultimately, where the modern Pole is different from the historical Sarmatian.
Krzysztof Koehler
Krzysztof Koehler is an essayist, journalist, professor of Polish philology and director of the Polish Book Institute (Instytutu Książki). He has co-authored various documentaries, published four volumes of poetry and is the director of TVP Kultura. He is a specialist in Old Polish literature and currently resides in Krakow, Poland.
Londynek.net,the U.K.'s biggest Polish-language website, is proud to be media patron of Palus Sarmatica'.
Date: 30 October 2017
Time: 7:30 p.m.
Member Ticket Price: £ 10 including wine.
Non-member Ticket Price: £ 15 including wine.
Student Ticket Price: £ 6 including wine.
Buying Tickets: Payment Information can be found here - View