Lecture Series March: Themersons
Our new LECTURE SERIES premieres this March with Jasia Reichardt speaking on THE THEMERSONS & THE ART OF TRANSLATION. Some texts cannot be translated, some fail altogether, some give us an idea of the original but suggest something else in the process. Franciszka and Stefan Themerson were significant figures in the Polish and later in the European avant-garde. They made films, she painted, he wrote and they founded one of the most important small presses of its day — Gaberbocchus Press. For the Themersons, the idea of translation was not only possible but also natural, whether from one language into another, from poetry to film, from picture to text. In this short talk Jasia Reichardt will describe/reveal some of the ways in which the Themersons made use of translation. The talk will be in English. Afterwards there will be Q & A with Jasia Reichardt and Nick Wadley, followed by a wine reception. Books and cards by the Themersons will be available for sale.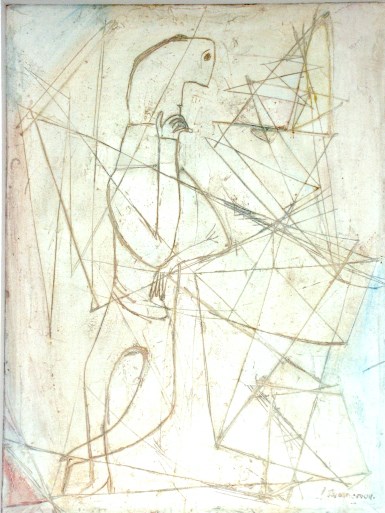 Franciszka Themerson, Why is the mind in the head?  1954, oil on canvas,100 x 75 cm © Themerson Estate
The Themersons
The Themersons were born in Poland, she in 1907, he in 1910. She was a painter and he was a writer. Among the early works made jointly in Warsaw were their avant-garde films, which Stefan described as 'photograms in motion', and their books and stories for children, many of which appeared in Płomyk during the 1930s, and later in Paris, in Moja Gazeta. Stefan wrote the texts and Franciszka illustrated them. They were probably the only avant-garde couple to have produced so much material for young readers, all between the years 1931 and 1963.
They moved to Paris to be in the centre of new art at the end of 1938. There, the war surprised them. In 1940 Franciszka escaped to London and Stefan followed her two years later. In London, they made 2 more films and then decided to launch a publishing company, which became the most important small press in UK. It was called Gaberbocchus Press, after the Latin translation of Jabberwocky, Lewis Carroll's dragon in Through the looking glass. The Themersons ran Gaberbocchus for 31 years and published 60 titles, all original in design, many of them first English editions. Stefan continued to write: philosophical novels, short stories, essays on art and aesthetics, poems, an opera (libretto and score), a radio play, while Franciszka's art embraced painting and drawing, illustration, theatre and graphic design. The Themersons' books are on many bookshelves throughout the world. Franciszka's paintings are in galleries and museums. Their films are shown from time to time in cinemas, and information about them percolates through countless pages of the internet.
Jasia Reichardt
Jasia Reichardt is a writer on art and an exhibition organiser. She was born in Poland, educated in England and has lived in London most of her life. She was Assistant Director of the ICA in London, 1963-71, and Director of the Whitechapel Art Gallery, 1974-76. She has taught at the Architectural Association and other collages, has written for most of the international art magazines, and has contributed to international exhibitions and conferences. She has written several books and served on various boards and committees. Her main interest is in art that encroaches on other fields, be it science or literature, and has spent many years following up the connections between art and technology. Since the deaths of Franciszka and Stefan Themerson in 1988, she has looked after their archive in collaboration with Nick Wadley.
Date: 27 March 2017
Time: 7:30 p.m.
Member Ticket Price: £ 15 including wine.
Non-member Ticket Price: £ 20 including wine. Themersonian: £12 including wine.
Student Ticket Price: £ 10 including wine.
Buying Tickets: Payment Information can be found here - View