Lecture Series June: Influence and Reception: Perspectives on the Music of Karol Szymanowski
Our Lecture Series continues this June with a lecture / recital on acclaimed Polish composer Karol Szymanowski. The talk will be in English followed by a wine reception. The ways Karol Szymanowski's music has been received among scholars and, more generally, among concert-going audiences in both Poland and Britain prompts numerous questions regarding social, cultural, historical, and ideological influence. An exploration of the concerns underpinning Szymanowski's reception at home and abroad effectively allows us insight into two cultural contexts: the music serves as a lens through which certain place-determined aesthetic judgements may be brought into focus.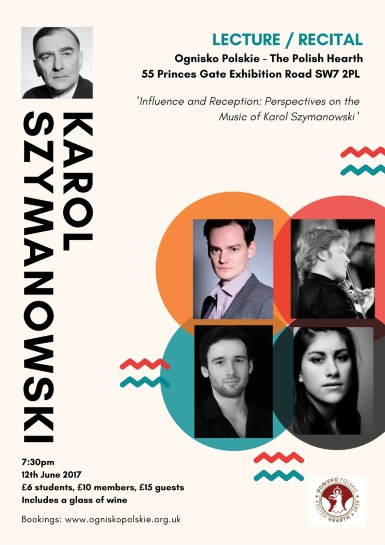 The talk takes its cue from the fact that, historically, Polish and Anglo-American scholars have been excited by contrasting aspects of Szymanowski's oeuvre. Anglo-American scholars have concentrated largely on the exotic works of Szymanowski's middle phase, and more generally on the role of exoticism throughout his oeuvre. Polish writers have focused instead on the works belonging to the composer's final phase (which exhibit the use of indigenous folk material from the Polish Tatras), claiming furthermore that they represent the peak of Szymanowski's creative endeavours.
This combined lecture and recital explores the variety of Szymanowski's oeuvre, together with what it has meant – and why – to different people, in different places, as well as considering the place Szymanowski occupies for contemporary audiences today.
James Savage-Hanford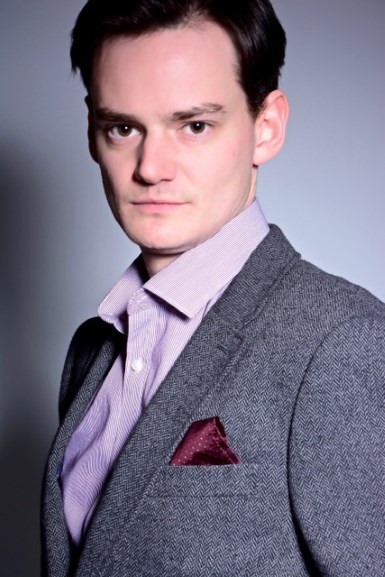 James is a British-Polish tenor and musicologist, currently researching his PhD at Royal Holloway, University of London. He is a graduate of both the Royal Welsh College of Music and Drama and Emmanuel College, Cambridge. His academic interest is in the work of composers operating at the so-called periphery of Europe's early twentieth-century avant-garde. James made his international debut as Ferrando Così fan tutte in 2016 with the Estonian National Symphony Orchestra at the Birgitta Festival, Tallinn. Other operatic highlights include Don Ottavio Don Giovanni, Bardolfo Falstaff (Black Cat Opera Company), The Teapot and The Little Old Man L'Enfant et les Sortilèges (Bute Park Opera), Remendado Carmen (Opera Up Close), Pluto in Offenbach's Orpheus in the Underworld (Opera'r Ddraig), and Tenor Soloist / Stage Director in the Armonico Consort's touring production of Too Hot To Handel (Buxton Festival, Malvern Theatres). He created the role of Back-to-Front Policeman in Laura Bowler's The Sandman (Tête-à-Tête Opera Festival), and has performed excerpts from the roles of Tamino, Ferrando, Lysander, Basilio, Macheath, Lurcanio, and Jaquino for RWCMD Opera Scenes. James has also sung Chorus for productions with Grange Park Opera, Opera Holland Park, and Bury Court Opera, among others. As a treble, James sang the role of the Shepherd Boy Tosca alongside Roberto Alagna and Angela Gheorghiu for two seasons at the Royal Opera House, Covent Garden. He subsequently recorded the role for EMI (under Antonio Pappano) and also appears in the DVD film version of the opera, directed by Benoît Jacquot. An accomplished and experienced choral singer, James also sings regularly with some of London's finest church and cathedral choirs, and has recently appeared with such consort groups as Sonoro and Musica Beata.
Marie-Anne Hall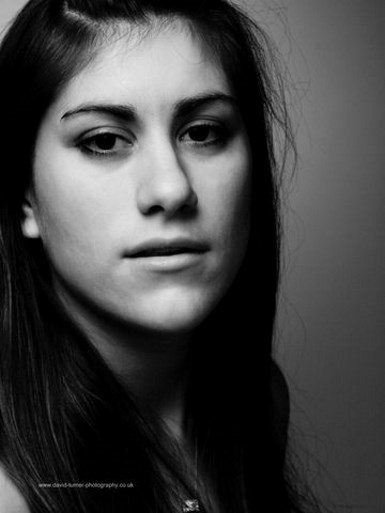 Marie-Anne Hall has a BMus degree from The University of Birmingham and an MA from The Royal Welsh College of Music and Drama. She worked for several years as an alto in the chorus of Opera na Zamku, Szczecin, Poland, working on co-productions with Deutsche Oper Berlin and performing in numerous operas, operettas and concerts throughout Pomerania. Recent Opera roles include Dido, Dido and Aneus, Purcell, Hermia, Fairy Queen, Purcell (Benslow Baroque Opera), Duchess, A Dinner Engagement, Berkeley, Dragonfly, L'enfant et les sortilege, Ravel (Bute Park Opera) Mercedes, Carmen, Bizet in Valois, France, Second Lady, The Magic Flute, Mozart, (St Paul's Opera). She has recently performed with Opera Anywhere, Opera de Bauge and Chelmsford City Opera. Forthcoming roles include Juno in Orphee aux enfers Offenbach later this year in London. Marie-Anne is in demand as Oratorio soloist throughout the UK. Her solo oratorio repertoire includes Messiah, Handel, the St John and St Matthew Passion, B minor Mass, J.S. Bach, Rossini Petite Messe Solennelle, Oratorio de Noel, Saint-Saens and many Masses and works of Mozart, Haydn and Vivaldi. As a freelance singer, She sings for Convivium Singers, Hartley Voices, and in the professional choirs of many London churches and synagogues. She has recently been a backing vocalist for a run of gigs for Madness's Chas Smash promoting his solo album singing in venues around London including the historic Wilton's Music Hall. Forthcoming engagements include Mezzo Soloist in Mozart Requiem, and works by Purcell and Buxtehude and a solo recital in Northamptonshire.
Michał Ćwiżewicz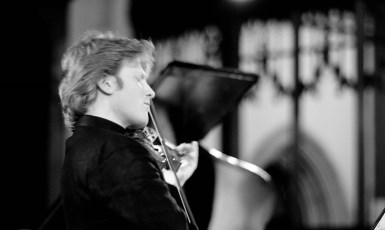 Michał Ćwiżewicz has given concerts across Europe, the Middle-East and USA and his playing has been broadcast on BBC television, live on Radio 3's 'In Tune' and Polish national television.  Numerous prizes and awards enabled his studies at the Royal College of Music, Guildhall School of Music and Drama, CRR in Paris, the Escuela Superior de Música Reina Sofia in Madrid and with celebrated musicians Krzysztof Śmietana, Itzhak Rashkovsky and members of the Ysaÿe and Alban Berg string quartets.  Violinist of the Minerva Piano Trio, St John Smith Square Young Artists 2016 he is also Concertmaster and co-director of the Górecki Chamber Orchestra and director of the Ognisko Chamber Ensemble. Teaching violin for many years, in 2012 he joined the faculty of the Royal College of Music and was recently presented to Her Majesty the Queen at the Young Artists Reception at Buckingham Palace.  Michał performs on a 1731 Niccola Gagliano violin kindly on loan from a private collection.  Alongside his studies with celebrated classical violin teachers, his father's research immersed him in the unique folk music of Poland, Eastern Europe, Arabic music as well as the Javanese Gamelan, which he played throughout his youth. He holds postgraduate degrees in solo performance from the Royal College of Music and Masters in Aeronautical Engineering from Imperial College.
John Paul Ekins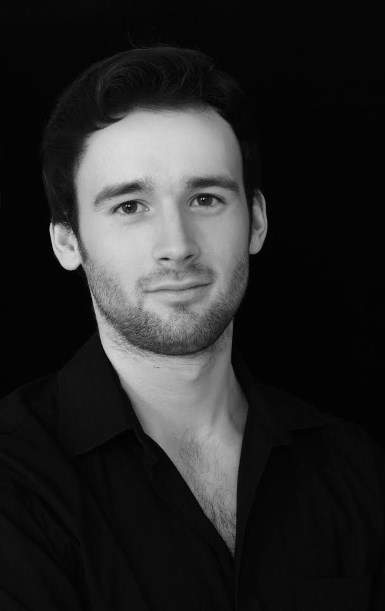 John Paul Ekins's concert schedule takes him across the UK, Europe, and further afield, having been broadcast on the BBC, on Romanian national television and radio, and on Polish television. He graduated from the RCM in 2009 with First Class Honours, having studied with John Barstow. In the same year, he was awarded the James Anthony Horne Scholarship by the Guildhall School of Music and Drama to continue studying with Charles Owen, graduating with distinction in 2011. He has performed as soloist at venues in the UK and abroad, including London's Wigmore Hall, Royal Albert Hall, Queen Elizabeth Hall, Purcell Room, St. Martin-in-the-Fields, Fairfield Hall and Steinway Hall, Belfast's Ulster Hall, Bergen's Troldhaugen, Birmingham's Symphony Hall, Bucharest's Athenaeum, Kraków's Florianka, Prague's Martinů Hall, and Zürich's Tonhalle. His concerto highlight thus far has been his 2013 debut at The Royal Albert Hall, where he performed Gershwin's Rhapsody in Blue alongside Southbank Sinfonia. He has performed concertos by Mozart, Beethoven, Schumann, Grieg, Rachmaninoff, Shostakovich and Gershwin with orchestras throughout the UK. John Paul is honoured to have been presented to Her Majesty The Queen at a Reception for Young Performers at Buckingham Palace, and he has been awarded as many as 19 awards and prizes at international competitions.
Date: 12 June 2017
Time: 7:30 p.m.
Member Ticket Price: £ 10 including wine.
Non-member Ticket Price: £ 15 including wine.
Student Ticket Price: £ 6 including wine.
Buying Tickets: Payment Information can be found here - View