Kino Klub: The Promised Land
We kindly invite you to the latest in a series of monthly screenings dedicated to showcasing the most intriguing films in contemporary Polish cinema. Each month on the third Tuesday we will be meeting to watch and discuss both new and classic Polish films: features, shorts, documentaries. A drinks reception will follow each screening. This month we will show The Promised Land (Ziemia Obiecana) Andrzej Wajda's social realist masterpiece. Technically breath-taking and emotionally riveting, it is an epic portrayal of the Polish capitalism in the 19th century. The film follows in the footsteps of Charles Dickens, Émile Zola and Maxim Gorky, as well as German expressionists such as Knopf, Meidner and Grosz, who all gave testimony of social protest. Filmed mostly in Lodz in the original buildings of old textile factories, the film boasts a superb cast: Daniel Olbrychski, Wojciech Pszoniak and Andrzej Seweryn, who are playing three friends dead set on striking it rich. The Promised Land was nominated for the Academy Award for Best Foreign Language Film at the 52nd Academy Awards.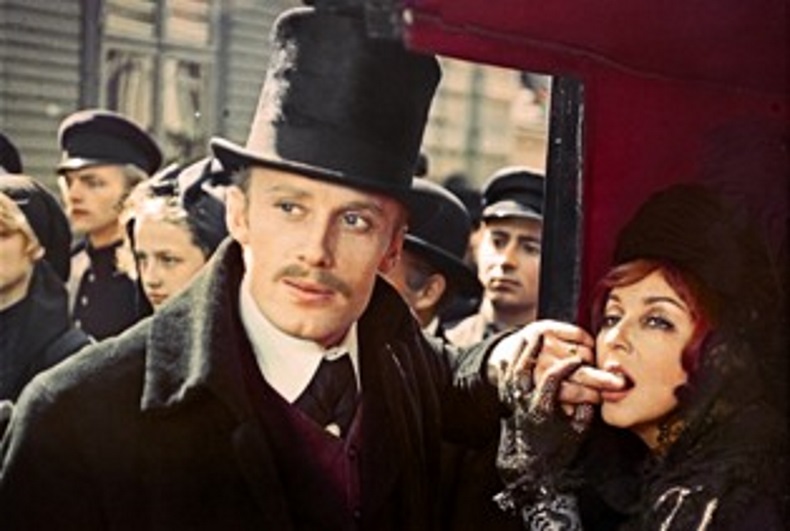 Review: Yasmeena Khan
Reymont's novel (The Promised Land), first published in 1897-8, has been compared to Zola and Dickens for its authentic, detailed depiction of the realities of the industrial revolution. It tells the story of Karol Borowiecki, a Polish nobleman, Moryc Welt, a Jewish businessman, and Maks Baum, a German industrialist, three friends who join forces to establish a new textile factory in Łódź - the 'promised land'. They represent three groups that historically held interests in Łódź's cotton and wool industries; they don't, of course, represent the interests of the Polish peasants to whom Łódź also promised work and hope when rural farming failed them. Nonetheless, the novel's equally concerned with the brutal effects industrial exploitation had on the poor; this is the story of capitalism from all angles.
Wajda's film of The Promised Land is a fantastical journey through 19th-century Łódź, a series of dizzying, swooping directorial flourishes that take in every detail of poverty and excess. Wajda isn't afraid to depict grotesquerie and cruelty, and many scenes are garish, positively nightmarish. We see gilded palaces and theatres, champagne and jewels, and we see the squalor and deprivation that allows them to exist. We see peasants slumped under the walls of those factories that offer so much false hope. People starve and die, but chimneys continue to spew black smoke into the sky, uncaring. The factory is the locus of dreams, here, and it's also the constant around which all life revolves. As one is burnt down, another is built. This is a morality tale, and the factory is a place where the worst of humanity runs unchecked.
Those older industrialists who try to cling onto something from the past – tradition, decency, honour – end up having to burn their own factories for the insurance money, or shoot themselves to escape the disgrace of unpaid debt. Rather be like our three heroes, the ethos of Łódź at the time would say – they're monsters, all of them, but success as a man is measured here not just by wealth, but by a rejection of humanity. That is, rejection both of humaneness but also, literally, of human beings. Karol (Daniel Olbrychski) not only lectures a clerk about understanding that he is one of a million small cogs in a large machine, he sees the gruesome death of a worker in a factory accident as a waste of the cloth that got soaked with his blood. Maks (Andrzej Seweryn) argues against his father's insistence on employing people out of loyalty, rather than replacing them with machines. Flesh has no dignity, whether it's being torn apart by suicide and machinery, or castigated by the mother who calls her daughter ruined because her boss forced her into an orgy.
Wajda hoped The Promised Land would be well-received in the West. He calls it an American film, because it's about money, and perhaps that feeling doesn't actually clash too much with his admission that he crafted some parts of the plot to appease the contemporary Communist regime. It's certainly accessible – as Thomson says in his essay, it doesn't require the viewer to have an understanding of the obscure symbols of Polish Romanticism, unlike some of Wajda's work. Indeed, the story's relevance has outlasted its 19th-century setting and the film's Cold War context, and it remains an urgent and fascinating narrative of human morality.
Information
Rafael K. Kapelinski (rkapelinski@gmail.com)
Date: 18 November 2014
Time: 7:30 p.m.
Member Ticket Price: £5 including a glass of wine
Non-member Ticket Price: £5 including a glass of wine
Buying Tickets: Tickets can be bought on the door