Kino Klub: Small Time Obsession
We kindly invite you to the latest in a series of monthly screenings dedicated to showcasing the most intriguing films in contemporary Polish cinema. Each month on the third Tuesday we will be meeting to watch and discuss both new and classic Polish films: features, shorts, documentaries. A drinks reception will follow each screening. This month we will be showing Small Time Obsession by Piotr Szopiak.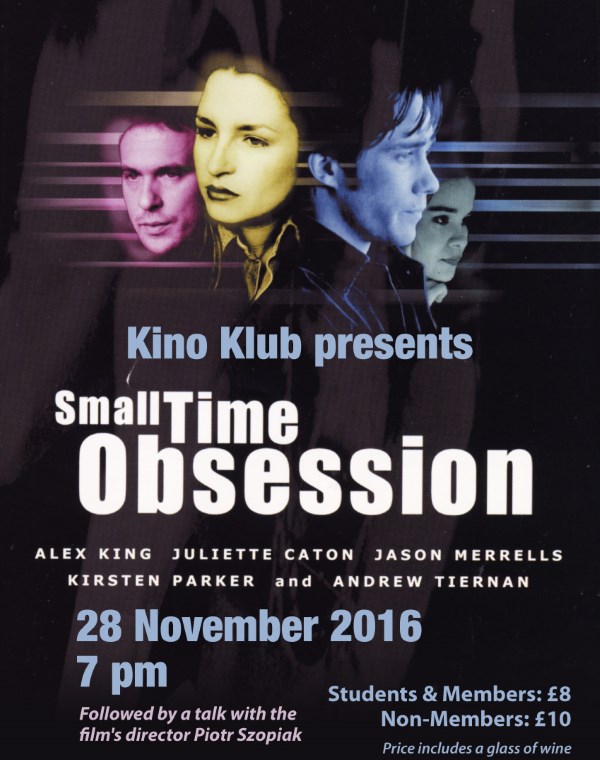 Small Time Obsession is a story of love and betrayal set amongst South London's Polish community. Michael Korczynski has his heart set on training and racing greyhounds at his local stadium but is under pressure from his father to take charge of the family delicatessen. Steve is an orphan with a passion for classic cars and John is a talented musician struggling to come to terms with hid depressed mother. Both out of loyalty as friends and the need to earn money to keep their dreams alive, all three do work for amiable wide-boy, Chris, who seems to be heading inevitably towards a life of crime. This is further underlined when Chris forms a relationship with small-time villain Geordie, who is, in turn to manoeuvre himself into the established underworld. Unsettled by Chris's increasingly criminal ambitions. Michael becomes torn between loyalty to his friend and his own needs and desires which include an, as yet undisclosed, infatuation with Chris'long-standing girlfriend, Ali. However when Michael overhears Ali telling Chris that she is pregnant and Chris denying his responsibilities, he is incensed and decides to make a stand.
Date: 28 November 2016
Time: 7:00 p.m.
Member Ticket Price: £8 including a glass of wine.
Non-member Ticket Price: £10 including a glass of wine.
Student Ticket Price: £8 including a glass of wine.
Buying Tickets: Payment Information can be found here - View