Kino Klub: NEON
Kino Klub is back with acclaimed documentary film 'NEON' by Canadian / Polish film director Eric Bednarski. NEON is a film that addresses the interplay between artistic freedom, social aspiration and soviet command in the unique urban landscape that is Warsaw -a European city like no other in its fascinating use of neon lights and signs. The film follows the untold history of the Polish capital's neon lights from pre-war to modern times, revealing hidden stories and exploring their role as both beacons of hope and symbols of oppression in an ever-changing Warsaw cityscape. Ognisko Polskie's showing of 'NEON' will be followed by a wine reception and Q&A with special guest -director Eric Bednarski. Londynek.net, the UK's leading Polish community on-line, is proud to sponsor Kino Klub at Ognisko Polskie. Portal Londynek.net jest wyłącznym patronem medialnym Kino Klubu.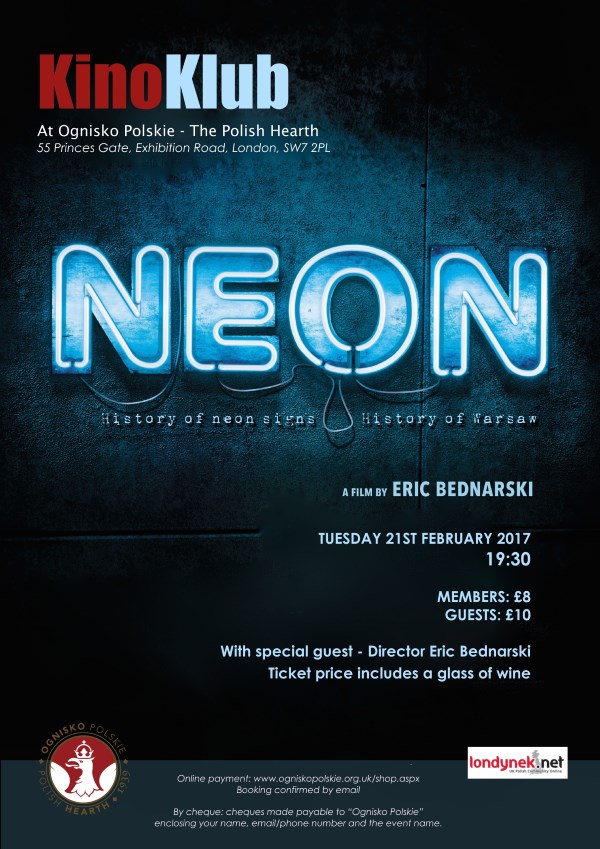 Date: 21 February 2017
Time: 7:30 p.m.
Member Ticket Price: £8 including a glass of wine.
Non-member Ticket Price: £10 including a glass of wine.
Student Ticket Price: £6 including a glass of wine.
Buying Tickets: Payment Information can be found here - View