Kino Klub: Moonlighting
We kindly invite you to the latest in a series of monthly screenings dedicated to showcasing the most intriguing films in contemporary Polish cinema. Each month on the third Tuesday we will be meeting to watch and discuss both new and classic Polish films: features, shorts, documentaries. A drinks reception will follow each screening. This month we will be showing Moonlighting by Skolimowski.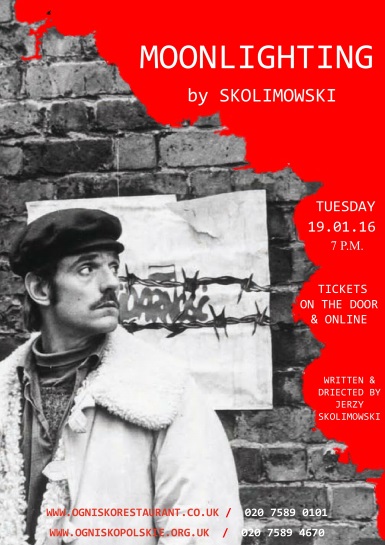 Synopsis
Moonlighting is a 1982 British drama film written and directed by Jerzy Skolimowski. It is set in the early 1980s at the time of the Solidarity protests in Poland. It stars Jeremy Irons as Nowak, a Polish builder leading a team working illegally in London so they can provide cheap labor for a government official based there. Nowak has to manage the project and the men as they encounter the tempations of the West and loneliness and separation from their families. Nowak is the only one of the group who speaks English, and he uses this as a tool over his team. When the unrest in Poland leads to a military takeover, Nowak is faced with a much more difficult situation than he expected.
Date: 19 January 2016
Time: 7:00 p.m.
Member Ticket Price: £8 including a glass of wine.
Non-member Ticket Price: £10 including a glass of wine.
Student Ticket Price: £8 including a glass of wine.
Buying Tickets: Payment Information can be found here - View