Kino Klub: Bogowie (Gods)
We kindly invite you to the latest in a series of monthly screenings dedicated to showcasing the most intriguing films in contemporary Polish cinema. Each month on the third Tuesday we will be meeting to watch and discuss both new and classic Polish films: features, shorts, documentaries. A drinks reception will follow each screening. This month we will be showing Bogowie (Gods) by Łukasz Palkowski.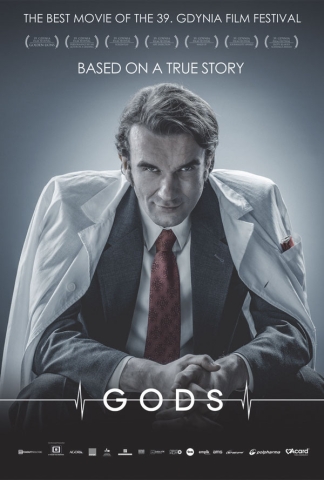 Synopsis
Bogowie ("Gods") is a 2014 Polish dramatic feature film directed by Łukasz Palkowski. It is based on the life and career of Polish cardiac surgeon Zbigniew Religa, who performed the first successful heart transplant in Poland in 1985. The movie received the Golden Lions award for best film at the 39th Gdynia Film Festival (2014) and the Eagle at the Polish Film Awards (2015).
Date: 20 October 2015
Time: 7:00 p.m.
Member Ticket Price: £8 including a glass of wine.
Non-member Ticket Price: £10 including a glass of wine.
Student Ticket Price: £8 including a glass of wine.
Buying Tickets: Payment Information can be found here - View