Kino Klub: Art of Freedom
In the 1970s and '80s, during the height of Polish communism, Polish mountaineers were among the best in the world. This month Kino Klub explores the phenomenon of Polish Himalaism with special guest - climber Leszek Cichy.
Art of Freedom tells the stories of the most difficult Polish expeditions and the most spectacular ascents. It depicts the essence of Himalaism: overcoming the weaknesses of the human body in the most extreme conditions. It is also a story of endurance, solidarity, trust and concern for the overall well-being of the team. After all, Himalaism is the school of life, a test of survival and the experience of true freedom.
Art of Freedom opowiada o najtrudniejszych polskich wyprawach i najbardziej spektakularnych wejściach na szczyty. Pokazuje też istotę himalaizmu: przezwyciężanie słabości własnego ciała i sprawdzian w niewyobrażalnie trudnych warunkach. To również historia odwagi, solidarności i przedsiębiorczości. Bo w końcu - himalaizm to szkoła życia, lekcja przeżycia i sztuka prawdziwej wolności.
Leszek Cichy is a Polish mountaineer most known for making the first winter ascent of Mount Everest together with Krzysztof Wielicki in 1980 and for being the first Pole to complete the Seven Summits (the highest mountains of each of the seven continents). He was born in Pruszkow, Poland.
Kino Klub is proudly sponsored by the Polish Cultural Institure and Londynek.net - the UK's biggest Polish-language website.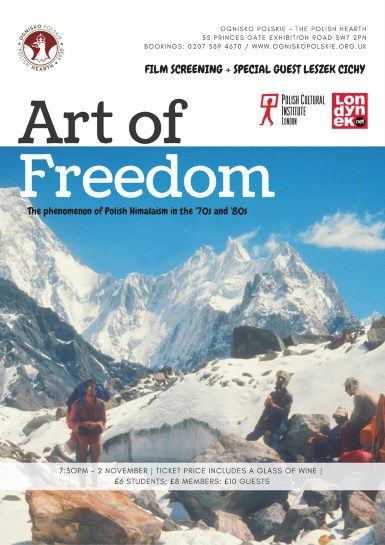 Date: 02 November 2017
Time: 7:30 p.m.
Member Ticket Price: £8 including a glass of wine.
Non-member Ticket Price: £10 including a glass of wine.
Student Ticket Price: £6 including a glass of wine.
Buying Tickets: Payment Information can be found here - View