Kino Klub: About my Father
We kindly invite you to the latest in a series of monthly screenings dedicated to showcasing the most intriguing films in contemporary Polish cinema. Each month on the third Tuesday we will be meeting to watch and discuss both new and classic Polish films: features, shorts, documentaries. A drinks reception will follow each screening. This month the renowned Polish film director, Bozena Garus-Hockuba, will be at the Club for a screening of her film About my Father.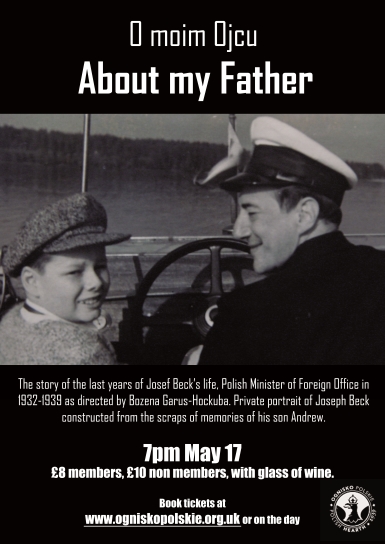 Synopsis 
The film  deals with the story of the last years of Josef Beck's life, Polish Minister of Foreign Office in 1932-1939. Private portrait of Joseph Beck constructed from the scraps of memories of his son Andrew, some officials from the Ministry and famous journalist Leopold Unger who spent last months in Beck's house in Bucharest. Son and father separated by war exchanged moving letters full of affection. Joseph Beck died a few days before liberation of Bucharest in 1944, his son Andrew refugee in America learnt this news from New York Times.
Director: Bożena Garus-Hockuba
Script: Bożena Garus-Hockuba
Cinematography: Kamil Płocki, Łukasz Skwarek, Jerzy Sobociński
Music: arranged by Marek Czapczak
Editing: Anna Krasowska Sound: Marek Głowiński
Producer: Stanisław Goracy
Production companies: BiS FILM Sp. z o.o. for Polish Television
Country of production: Poland
Year of production: 2007
Minutes: 49
Bożena Garus-Hockuba
She is graduate of French Literature at Jagiellonian University in Cracow (MA), and of Film and Television Directing at the University in Katowice (MA). She studied under the guidance of Krzysztof Kieślowski and Krzysztof Zanussi. From 1980 to 1981 she made post-graduated studies in Department des Civilisations at University in Nancy/ France.
Bożena Garus-Hockuba is co-founder and president of the film production company BiS FILM since 1998. For over 20 years she has produced documentaries for the Polish Television, film companies and international organisations (UNESCO, Friedrich Nauman Stiftung) on various cultural and artistic topics especially on famous personalities such as Thomas Transtromer, Swedish poet awarded Nobel Prize in literature in 2011.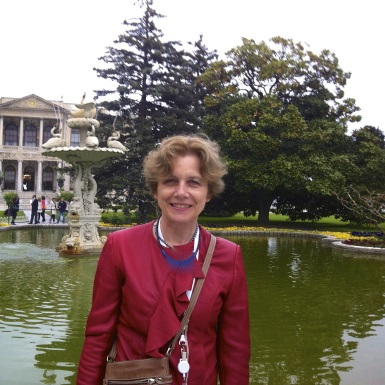 She directed a number of awarded documentary films, including acclaimed "Lilpop sisters and their passions" for which she received Hollywood Eagle Documentary Award in 2007 on 8th Polish Film Festival in Los Angeles, and Audience Award on 14th Ann Arbor Polish Film Festival. In 2010 she was honoured by Jury Award on 17 th Ann Arbor Polish Film Festival for her documentary "They took his love away" about Hindu historian Peter Raina. She was the Kosciuszko Foundation Grantee in US in 2008/9 for her research on Artur Rodzinski, music conductor.
Date: 17 May 2016
Time: 7:00 p.m.
Member Ticket Price: £10 including a glass of wine
Non-member Ticket Price: £10 including a glass of wine
Buying Tickets: Tickets can be bought on the door